The history of athletics at Sullivan South was by no means limited to any one sport in particular but was spread across the entire landscape.
And many teams throughout the school's 41-year run reaped the rewards.
VOLLEYBALL
Few sports are as synonymous with a school as volleyball is with Sullivan South.
Since the program's beginning in 1980, the Lady Rebels made a state-record 31 tournament appearances and took home the title five times (1984, 1995, 1996, 2013, 2015).
The Lady Rebels also were runners-up in 1985, 1998, 2005 and 2006. South's state tournament record was 59-44.
Sherry Hooks, a TSSAA Sports Hall of Famer, accumulated a staggering 909-159 record at the South helm. Hooks ranks inside the top 50 for most wins in the United States and third in Tennessee.
In an era in which the state powers were in Chattanooga, Hooks made the trek to play the best teams in their own backyard and had rousing success.
Over the first 21 seasons of the program, Hooks guided South to 18 conference championships, region tournament titles and state tournament appearances. Of those conference crowns, 15 came in unbeaten campaigns. The Lady Rebels also won 16 district tournament titles.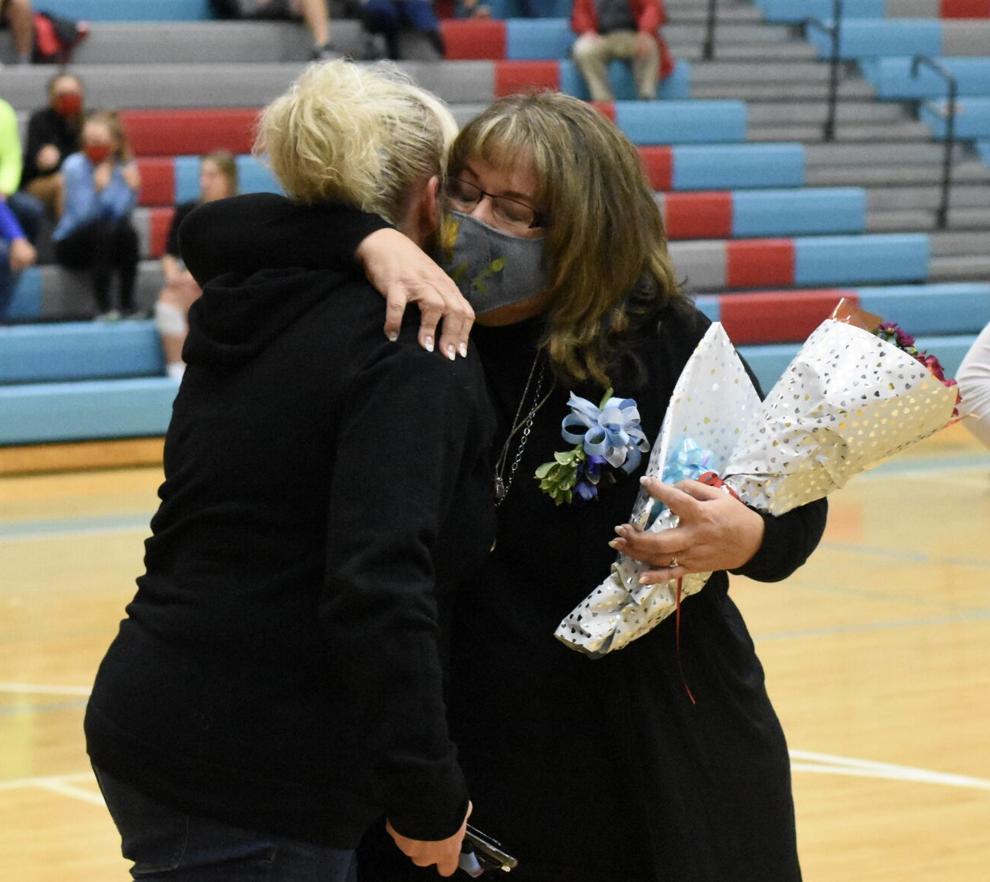 The Wendy Ratliff era, which began in 2002, carried on the strong tradition. Following South's exit from the Region 1-AA tournament after a five-set loss to Greeneville, Ratliff finished her career at South with a 774-207 record. She ranks inside the top 100 for most wins in the country.
In her 19 years, Ratliff led South to 13 conference regular-season, district and regional tournament titles. The Lady Rebels made 12 state tournament appearances and won the Class AA titles in 2013 and 2015, accompanying runner-up honors in 2005 and 2006.
The program produced 46 all-state players — making up almost half of all the school's performers — and saw numerous others go on to play at the next level.
South's win-loss total was 1,718-381 with 31 conference and regional tournament championships along with 29 district tournament titles.
"I cannot say enough about how hard those girls worked in all the time that I was there," Hooks said in a 2020 interview. "I don't make the program. The kids do. They've carried on that tradition at South and the whole community is always behind them. There is so much history of the 70, 80 young ladies that played and loved the game.
"South has been and always will be my home."
BASEBALL
When people talk about some of the most improbable runs to championships, South's baseball team from 1987 is probably right at the top.
And the Rebels didn't just squeak by competition in the TSSAA Class AAA tournament. They rolled over their foes.
"I think we had lost seven or eight games that season by one run, so once we got over that, we started rolling," then-coach Mike Cline said. "We won the region in extra innings when Jimmy Wingfield laid down a suicide bunt against Morristown West.
"In the state tournament, we played Chattanooga Baylor, which was the best high school team I ever coached against, and we beat them 6-0. We just beat down a lot of balls into the dirt and Jimmy was pitching and he had a great slider."
The Rebels moved on to play Smyrna.
"I remember that (Smyrna) had played the night before and they had over 3,000 people out there to watch — and the next night, there was hardly anybody there," Cline said. "Their coach told me that they had a prom that night, so they were kind of halfway there."
In the championship game against Christian Brothers, South dominated in an 8-2 win.
"We had a rain delay before that game and we were all just sitting in the dugout playing cards before the game," Cline said. "Once the game started, we just took it to them.
"I could go through the lineup and say something about every player from the district tournament on, but there was not a game that someone different didn't step up."
For Cline, the championship feeling will always be there.
"Things happen in life that cause moments to get smaller and smaller or bigger and bigger," Cline said. "As time goes on, that feeling of being a state champion has become bigger and bigger.
"I can remember (veteran coach) Mike Ritz calling me afterwards and telling me to enjoy it because it might be my only one. Ritz likes to joke and he's an old family friend, but he was being pretty philosophical when he said that."
FOOTBALL
The Rebels' first major taste of sustained success on the gridiron came in the early 1990s, and some of the key victories in that stretch were thanks to all-state running back Jeremy Osborne.
During Osborne's three years on the team, South didn't lose at home in the regular season. Osborne graduated in 1994 and left as the school's all-time leading rusher and scorer.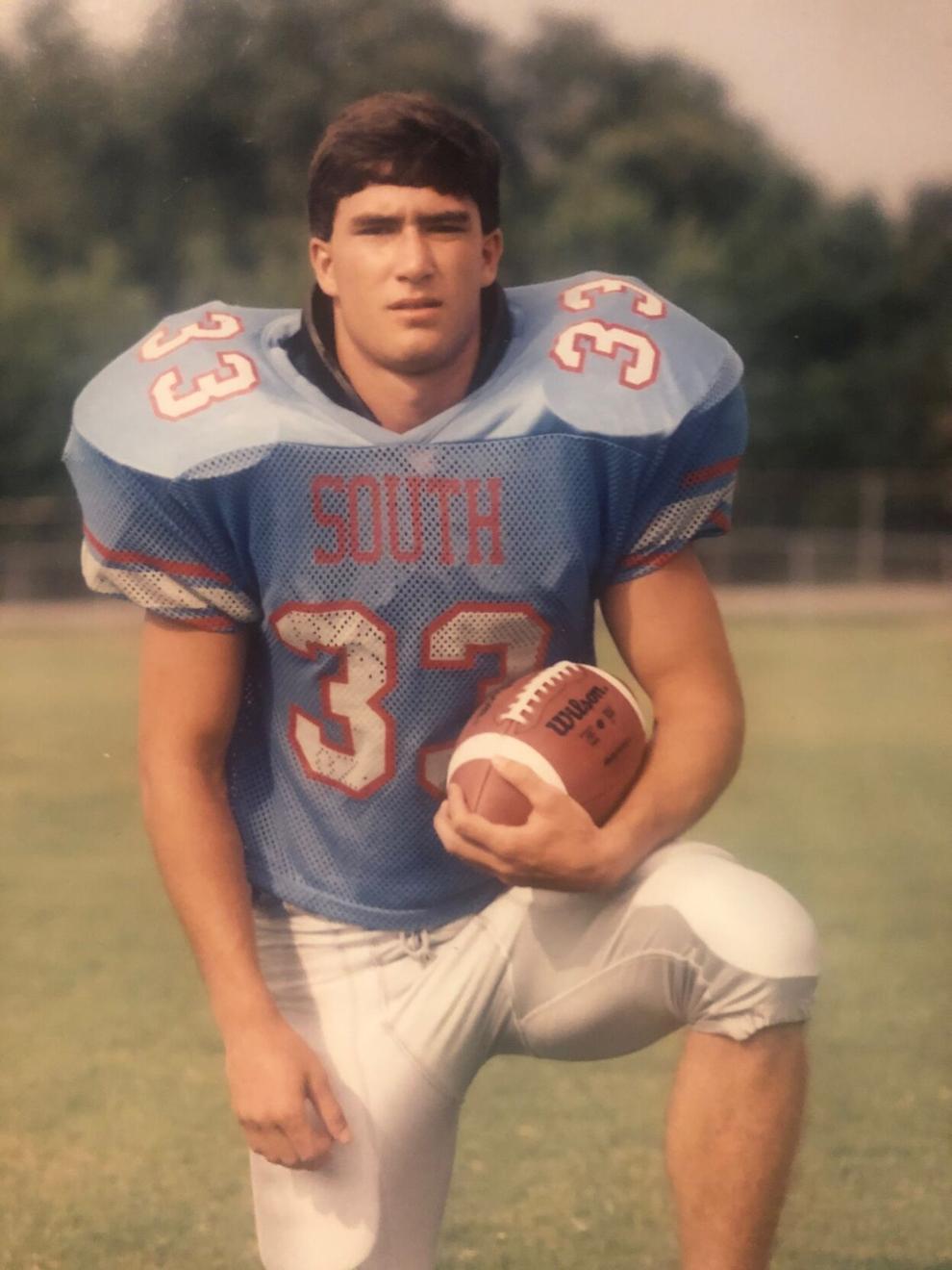 He accumulated more than 2,000 yards and earned a scholarship at Furman.
"The community support that we got at South was second to none," Osborne said. "South had always had a successful athletics program, and along with guys like Ralph Nelson and Sam Haynie, we were just able to build on that success."
Osborne and the Rebels, as the returning conference champs, had big goals for the 1993 season and felt they had something to prove in the playoffs.
"The game against Greeneville that year was all hyped up to be Dustin Moore against Jeremy Osborne and it was a physical battle," Osborne said.
The Rebels won close games over the Greene Devils (9-7) and Elizabeth- ton (24-17) and finished the regular season 10-0.
South had a first-round bye for the Class 4A playoffs then beat Powell 10-7. Up next was a familiar foe in Cocke County.
"That was a very physical game," Osborne said. "I scored the winning touchdown late in the fourth quarter with like two minutes left and we ended up winning 6-0. Then we ran into a very talented Cleveland team and lost (21-0)."
In 2007, Curt Phillips had quite the memorable run while calling the signals for Stacy Carter's bunch.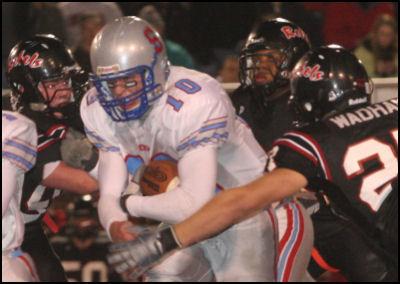 The Rebels went 12-2 that season after winning the Region 1 title for the fourth consecutive year. South reached the semifinals for the second time in school history, facing Maryville — No. 1 in the state and winner of 112 of its previous 114 games.
Phillips, the 2007-08 Gatorade Player of the Year, found himself surrounded by black jerseys at every turn in the 48-21 loss to the Red Rebels.
Still, he gained 137 yards on 27 carries and hit on 13 of 18 passes for 86 yards, easily breaking the then-state record for single-season total yards previously held by Ezell Harding's J.P. Shelly.
Phillips finished the year with 1,882 yards rushing and 2,126 passing for 4,008 total yards. The 6-foot-3, 218-pound shotgun quarterback needed just 131 yards to catch Shelly and got 223.
Phillips, who went on to play at Wisconsin, closed his fabulous three-year career with 9,221 yards.
"It's been one heck of a ride,'' Phillips said to Times News sports writer Bill Lane after the loss. "Maryville is real tough, but we came out and battled. We were in it but just couldn't finish.''
CROSS COUNTRY AND TRACK
Strong girls cross country running has been a theme in Northeast Tennessee for many years, but South can lay claim to having the area's first female individual champion: Lesley Whitehead, who won the title in 1982 as a sophomore.
Whitehead went on to win two additional titles at Percy Warner Park, becoming the first three-time state champion in state history. She went on to run for Kentucky before transferring to East Tennessee State to finish her career.
Whitehead was also a key influencer of Laura McSpadden, who won the 800-meter state title in 1986.
Danny Sexton was one of the mainstays in the 800 in the late 1980s and early 1990s. When the school closed, Sexton held every record from the 200 up to the cross country 5 kilometers and is one of only three male runners from Northeast Tennessee ever to break 1:53 for the half-mile.
Sexton was the 1991 state champion in the 800 after running a 1:54.22 at Montgomery Bell Academy, but it was not his first state title. One of his best races came at the 1989 state meet when he went from dead last a quarter-mile into the race to winning in a meet record-tying 15:34.0.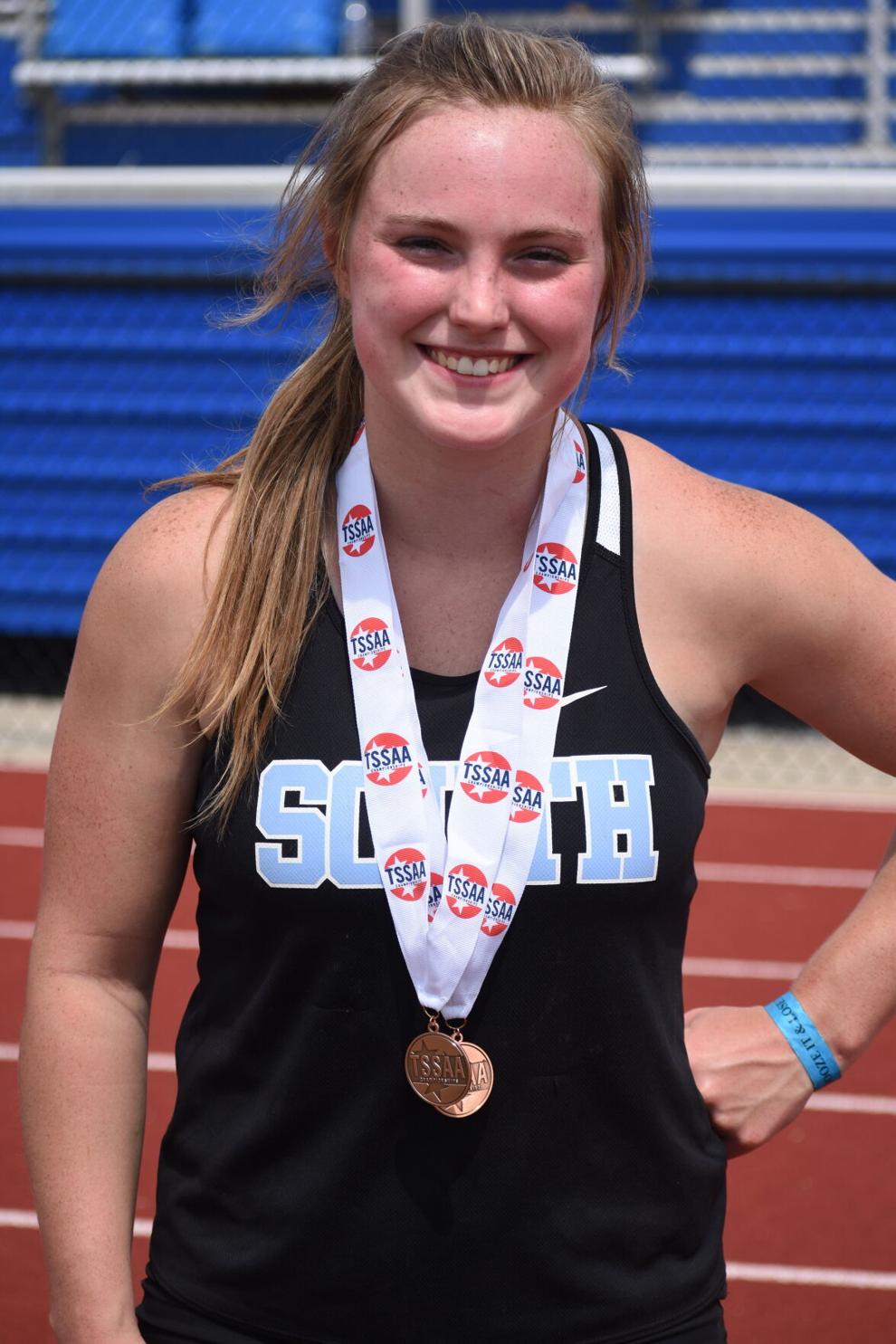 According to Kevin Odiorne, his longtime friend and college roommate at Georgetown, Sexton had apparently eaten more than his fair share of pancakes at breakfast just a few hours before the gun went off outside Nashville.
Madison Cowan closed out the athletic history at South the right way when she collected medals in both the long jump (sixth, 17-11.25) and triple jump (third, 36-11.25) at the TSSAA Large Schools outdoor meet in May.
"I'm very proud to represent Sullivan South. There's nothing else like it, in my opinion," Cowan said. "I'm just overwhelmed and very grateful that I'm the very last athlete to compete and represent my school. It's been a really great run."
GIRLS GOLF
Allyson Dunn was the 2013 individual state runner-up for the Lady Rebels, but she played a much bigger role for her team in the A/AA golf tournament. Dunn and teammates Taylor White and Kaitlyn Grills led South to its only state golf title.
In the fall of 2020, Kara Carter had a blistering final round of 6-under-par 66 with no bogeys to capture the TSSAA Large Class girls individual state championship at WillowBrook Golf Club.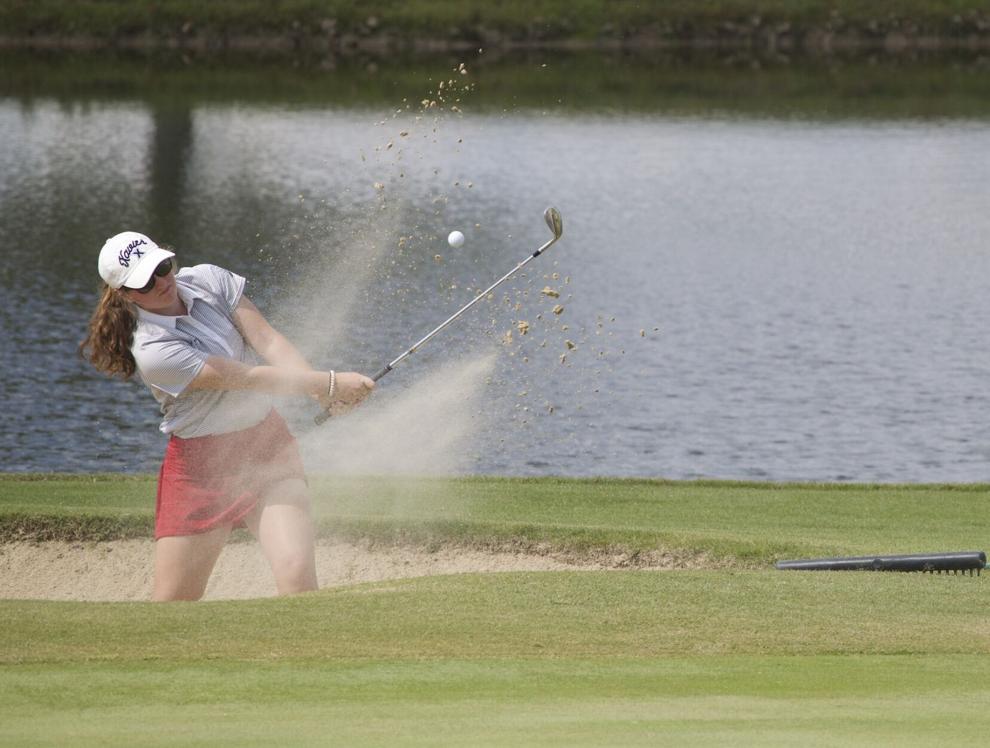 After opening with four pars, Carter had three straight birdies on holes Nos. 5-7 and had a matching 33 score on the back nine after birdies on Nos. 12, 15 and 16. Her two-day total of 6-under 138 was the fourth best in state history.
After top-10 finishes at the previous three state tournaments, Carter was glad to bring home a state title in South's final year.
"It's been a long four years, and I'm glad to finally close it out," said Carter, who signed to play for Xavier. "It's a mixture of joy, relief, everything good and bad."
BOYS BASKETBALL
If there's one person to have an amazing run as both a player and a coach at South, it would be Michael McMeans.
In 2000, his senior year of high school, McMeans helped lead the Rebels into the sectional basketball tournament in Knoxville. The Rebels lost to Oak Ridge, falling one step short of the school's first state tournament appearance.
"I've always thought that the community at South was one of the best around," said McMeans, who finished his playing days as South's all-time leading scorer with 1,998 points. "I remember when we went down to the sectional and we played at Thompson-Boling Arena, we easily had 10,000 people there. They had to take several buses down there.
"That was the same year that the 'Super Fan' and student section got started and we'd have gyms packed to the brim every Tuesday and Friday that we played at home."
In 2016, McMeans took the coaching reins at South after a six-year stint at Colonial Heights Middle. He turned around the Rebels' program and guided them to a 30-5 record in a breakout 2019-20 season.
The Rebels went on the road to Alcoa for the sectionals and pulled out a 76-70 victory, clinching the first state tournament appearance in school history. But then the coronavirus pandemic forced the cancellation of the state tournament, and the Rebels never got a chance at the gold ball.
"Nobody thought we were going to go down there and win that game," McMeans said. "I was laying in my bed watching film of Alcoa before the game and I texted my assistant coaches (Clay Potter and Justin Humphries) that we were going to win that game.
"That was such a tight-knit group that was not afraid of anybody and it kind of reminded me of the group I had as a senior. Ben (Diamond) and Cole (Layne) were two of the toughest players I've ever had."
For McMeans to lead his alma mater to the state tournament was far more special than he ever could have imagined.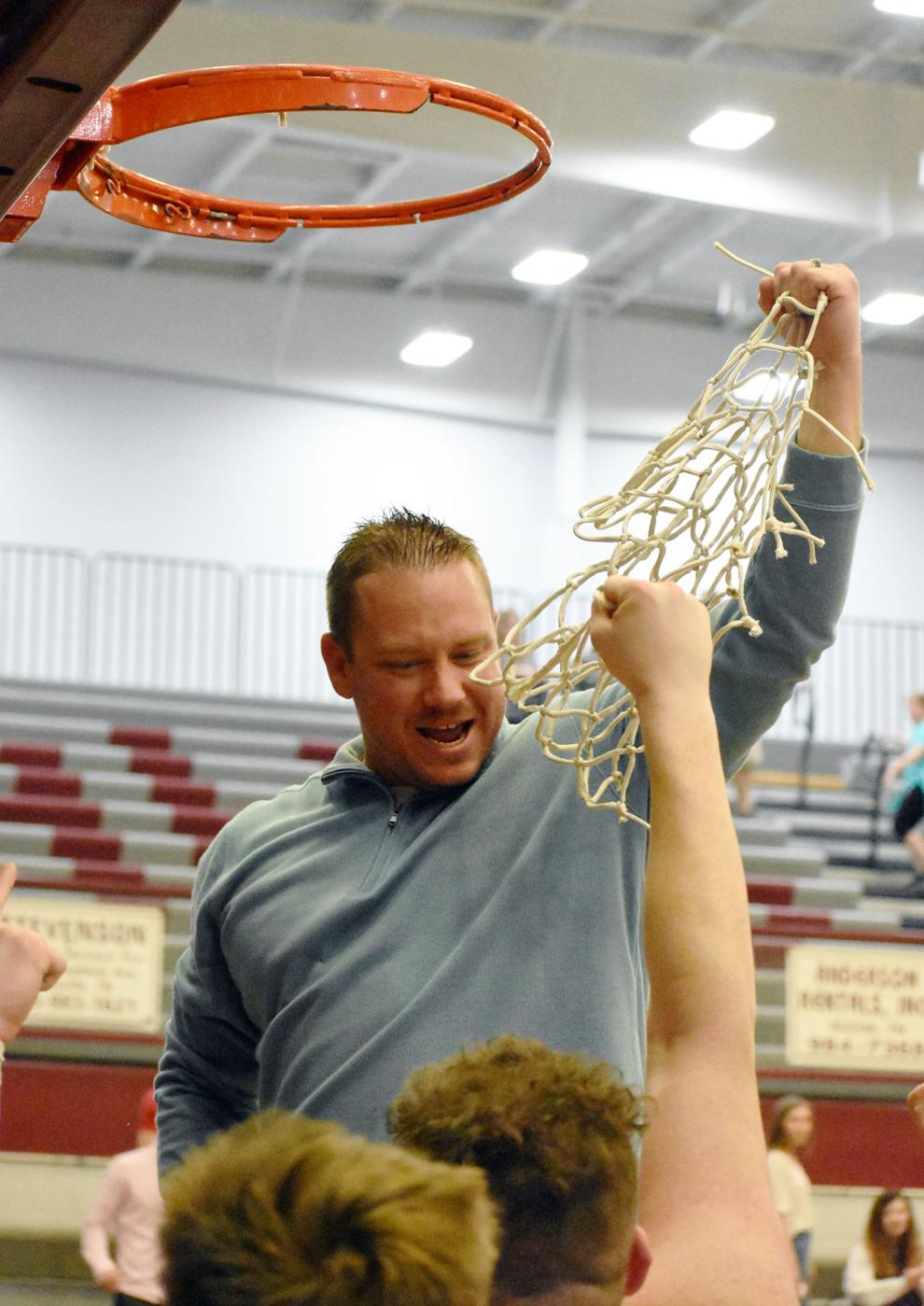 "There's really no other way to describe it other than special," said McMeans, now the coach at Tennessee High. "For the trip down to Alcoa, we actually rented three Tahoes instead of going down on a school bus because we really wanted to make them feel special.
"When we rolled back into the South parking lot at like 1 a.m., there were hundreds of people waiting for it. That, to me, represented what the South community was and it's just really sad to see it closed now."