JOHNSON CITY — Patrick Good said it was a tough decision to walk away from the East Tennessee State men's basketball team, but it was one he had to make.
In the midst of the coronavirus pandemic, Good opted out of his final year with the Bucs. He became a father a few months back and with all the uncertainties in the world these days, he decided it was in his family's best interest to turn his attention toward the future.
"It was difficult," Good said. "The time we're living in is just a difficult time to comprehend. I prayed to come up with the right decision for me and my family. I had to put my desires aside and I made what I would term a business decision."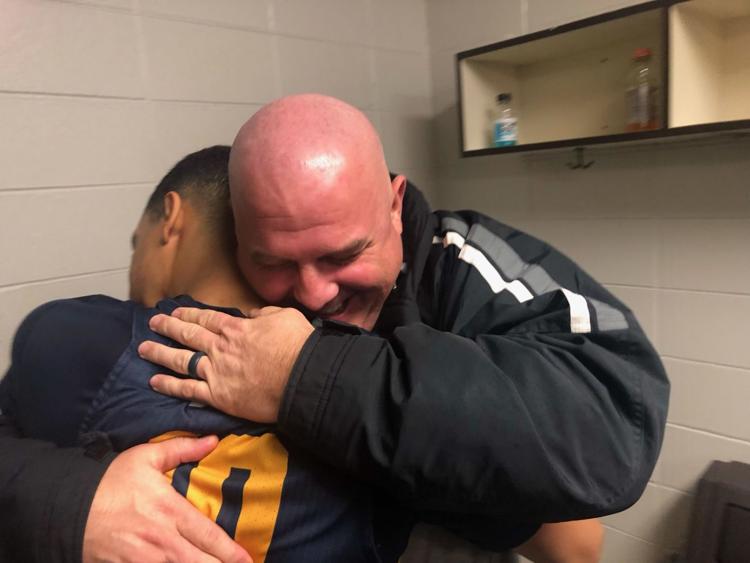 Good's departure from ETSU was abrupt. He never got a proper sendoff, no Senior Night, no last chance for the fans to say goodbye to a very popular player.
As it turns out, his last game in front of the home fans was his best. He lifted the Bucs to a 68-67 victory over Western Carolina to clinch the Southern Conference's regular-season championship.
How memorable was the game? He wound up scoring 24 of ETSU's final 30 points that day. Included in that total were five 3-pointers in the final four minutes, the last one with seven seconds left winning the game.
After the buzzer, Good set off a wild celebration by running the length of the court, trying to stay a step ahead of teammates about to bury him in a heap.
"That was something I always envisioned," Good said at the time. "If I ever got a chance to do that, I was going to run around the court so they can't catch me and I felt like I was good for a little bit and they finally caught me."
That was his last lap around the court at Freedom Hall. The Bucs went on to win the SoCon tournament and finished the season 30-4 but never got to play in the NCAA Tournament when it was canceled because of the coronavirus.
That same virus played a major role in his decision to step away from the game he's loved since he was a little kid.
"I told my teammates I have a different responsibility and I had to hold myself to a higher standard, having a daughter and having to provide for a family," he said.
Good didn't give up basketball without some serious thought. In the end, he figured he'd miss the game no matter when he stopped playing. Armed with a degree from ETSU in sports and recreation management, along with a business minor, it was just time to get on with his life.
"That's what I was telling my dad," he said. "Whether I ended it today or a year from now, I was going to miss it regardless. I've been in the gym every day since then. I'm always going to miss it."
Instead of playing in front of 6,000 screaming fans at Freedom Hall, Good's time on the court from now on, he hopes, will be spent helping others at a new gym he plans to open. His vision includes three or four basketball courts, office space, a lobby and some meeting areas. He has a partner and is hoping to get going next spring at a yet-to-be-determined site.
"There's a lot of opportunities out there," Good said. "But if you don't know what opportunities are out there, you don't know what to reach for, what to dream for. If I can take that knowledge and pass that hungry attitude to the younger kids, it will be good.
"First and foremost I want to be able to give the knowledge I've been given through a plethora of coaches at many levels and being productive on the court while I was going through it. It's just a daily grind. It's not easy. That's why you see some guys not make it. It's a hard process to wrap your head around. I want to help."
When ETSU's season starts, the Bucs won't have a bigger fan than the man who wore No. 10 the last couple of seasons.
"I definitely feel like the team has an opportunity to do something special," he said. "I hope they do. They have the right coaching staff and the right guys. They work hard. If they can come together as a team, they'll be OK. They have a lot of new individuals and everybody is trying to prove themselves from the get-go. Once they get that team chemistry and that bond, it's going to make them tough."
Though no longer part of the team, Good will always be part of the program and he's keeping in touch with his younger former teammates.
"I still send them texts, but I don't try to put my input in too much," he said. "They are a lot of younger guys and it can be difficult, especially with the pandemic limiting what you can do. I still have an obligation to those guys to check in on them. It is my school, my hometown. I want to represent that in the best, first-class way."
It's only been a matter of weeks since Good stepped away and he's already looking back on his career with a mature perspective.
"The thing is I have no regrets," he said. "I've given everything I had. I trusted the process. I enjoyed the process, first and foremost. I definitely got more than what I deserved in return."