For years, Cecil Moore's football career took him to great individual heights.
When it was over, it left him with a feeling that has taken him a decade and a half to verbalize.
The former East Tennessee State star wide receiver got a taste of the NFL when he went through training camp with the New York Jets in 2003 before spending the season on the team's practice squad. He also had a cup of coffee with the Baltimore Ravens and played for two teams in the Arena Football League.
It all left him wanting more, especially since his uncle James "Little Man" Stewart had played eight years in the NFL and rushed for nearly 6,000 yards.
Football defined Moore when he was a two-time All-American at ETSU in the early 2000s and when he was a star at Morristown East High School before that. Unfortunately, he let the game continue to define him years after his playing days were over. He had always judged his worth by his production on the field. With no more football, he struggled within.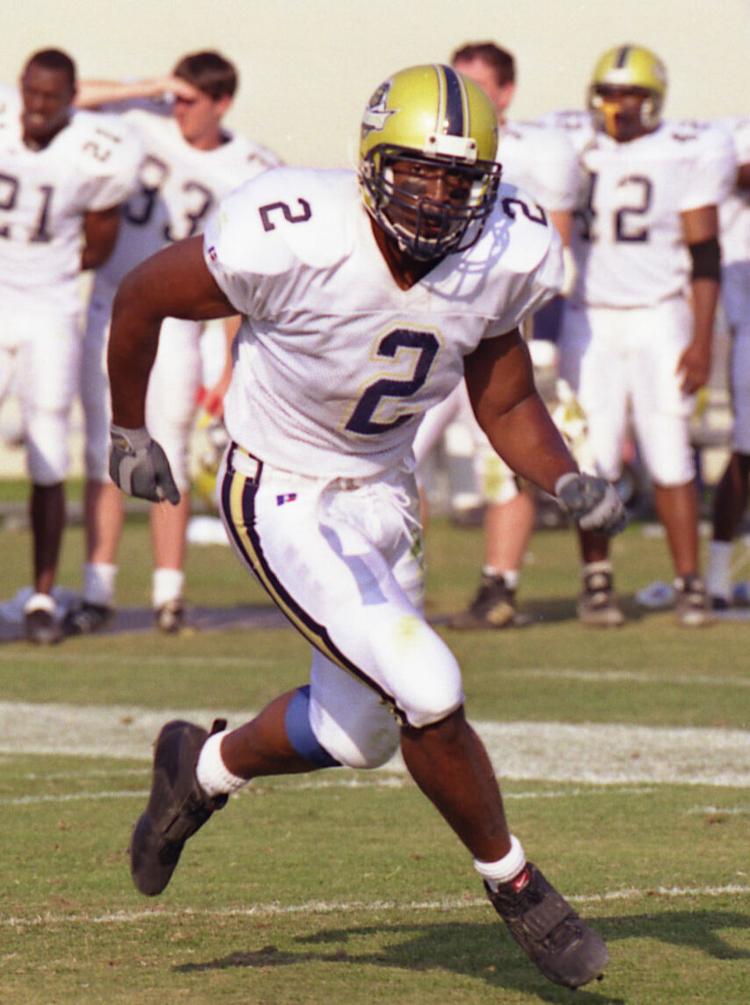 "I loved football, but at the same time I hated football," Moore said. "Seeing my uncle playing so long and the success he had and then me getting to play a little, I was my own worst critic. I felt like I wasn't successful. I battled it for a long time. It's hard to explain.
"If I was in a room with people, I thought they looked at me like I was a failure. It really caused me kind of social anxiety, no matter where I went, even though that never occurred. I was just thinking about it. I never spoke about it, but I just felt a certain way. It wasn't good. I battled it for about 15 years. It was tough."
Moore, who will turn 40 two days before Christmas, said the anxiety and feeling of failure cost him more than self esteem.
"I've lost some friends over it and lost some connections with family members," he said. "I feel like now is a good time to talk about it. Maybe I can reconnect with some of them."
For years, Moore didn't realize that if people were, indeed, talking about him, they were more likely impressed with the fact that he made it to the NFL. Just getting a call from two teams meant he was already more successful than the vast majority of college football players.
He's beginning to realize that, and it's helping him come to terms with the way he's felt for all these years.
"Now I'm understanding the value of life," he said. "I'm not worrying about what people think."
These days, Moore works as a senior sales representative for Ballad Health and is currently furloughed. While he hopes to get back to work soon, the break has given him an opportunity to come to terms with his feelings.
"This has given me more of a chance to find myself," he said.
Moore has taken up golf and fishing and remains as competitive as ever.
"If my friend catches two fish, I'm happy for him," he said. "But then I want to catch two fish too."
All-time great
How good was Moore when he played for ETSU?
Eighteen years after his last season, he's still second on the school's career receiving list with 161 catches and 2,488 yards. His 19 touchdown receptions are tied for third in school history. In addition, his four TD catches against Elon are still tied for the school record for one game. His 12 catches against Chattanooga in 2000 rank as the Bucs' third-best single-game total.
Along the way, Moore caught two touchdown passes from Matt Wilhjelm in ETSU's historic 19-16 win over No. 1 Georgia Southern in 2001, although he doesn't like to take too much credit for them.
"That was fun, but I don't look at it as my touchdowns," he said. "It was a great team victory. Someone has to block. Someone has to throw. It was exciting, Nobody expected us to win. We believed in each other. We did it together."
All-star winter
After Moore's final year at ETSU, he played in the Rotary Gridiron All-Star Game in Florida, where he caught a touchdown pass from Oklahoma's Nate Hybl before leaving the game with a hand laceration. He still has the ball from that game.
"That was something I wanted to do going in," Moore said. "Any time you can get extra exposure it helps. Back then, when you came from a small school, that was already a knock against you. So any exposure I could get was a bonus."
That led to an invitation to the NFL Combine.
"I remember that like it was yesterday," Moore said. "I received my invitation on Christmas Eve. To be included with that class — Jason Witten was in that group. Aubrayo Franklin, Kelley Washington from Tennessee. You try to stack up against those guys. It was exciting coming from ETSU to be able to do that."
Jets come calling
After going undrafted, Moore signed with the Jets as a free agent.
"I wish my career would have been more," he said. "If I had to look back, I would have made a different decision. NFL Europe was going on. It wasn't so much ego, but I had so much belief in myself, I didn't want to play NFL Europe. I just figured I was ready to go.
"If I had it to do over again, I would have gone. I would have gotten some exposure and gotten to play."
Coach Moore
Moore also spent some time as an assistant coach at Pikeville College, working under Jerry Mynatt, who had coached his position at ETSU. Moore joined several of his former ETSU teammates on Mynatt's staff.
"We made him coach of the year," Moore said. "You can look it up."
Moore was laughing at the thought, but then he got serious.
"Jerry Mynatt did more for my career than any other coach," Moore said. "I respected him so much. What he did for me as far as getting a chance — he put together my highlight film. From VHS to DVD he made copies and we sent them out. He was such a good coach, a great technician."
Moving forward
Moore seems genuinely happy with being a golfer and fisherman in his spare time, and he's looking forward to seeing how his new outlook on life helps him in the future.
"I think I've denied myself that over the years," he said. "I think by getting in my own way, I haven't given my best self to a lot of people. I feel like I have so much more to offer."
So if you see Cecil Moore swinging hard on the golf course or casting in a river somewhere, make sure to say hello. And if you get around to it, tell him how cool it was that he's a former All-American who got a taste of the NFL.
That's only just part of who he is these days, and he appreciates that now.