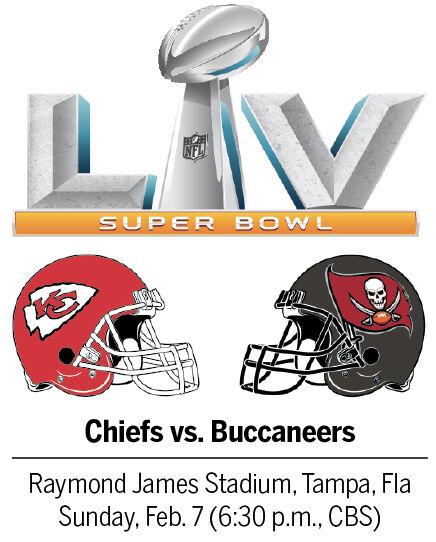 Joey Christian has a personal interest in this year's Super Bowl.
The Dobyns-Bennett coach was offensive line coach when Kansas City Chiefs center Daniel Kilgore played for the Indians.
Kilgore will be making his second Super Bowl appearance when the Chiefs suit up for the upcoming game against the Tampa Bay Buccaneers. He played for the San Francisco 49ers when they lost 34-31 to the Baltimore Ravens in Super Bowl XLVII in 2013.
"There's a lot of pride. You hope somewhere down the line I did or said something that helped his development as a player and a man," Christian said of Kilgore. "I'm just so happy for him to reach the pinnacle of his sport, of his profession. To see him get to the top, it's awesome."
No surprise, then, that Christian joins the majority of local high school coaches in picking the Chiefs to win this year's big game over the Bucs, who will be the first team ever to play a Super Bowl in their home stadium.
Christian likes Kansas City's offense, although he gives Tom Brady and the Bucs more than a fighting chance.
"I'm definitely pulling for Daniel Kilgore and the Chiefs, but I would never ever count out No. 12 for the Bucs. To do what he's done for as long as he's done it at that level, it's one of the greatest feats athletically. I could see him pull the rabbit out of his hat. But I like that Chiefs offense. ... CHIEFS, 34-21
Justin Hilton (West Ridge)
It's hard to pick against Tom Brady. He's a winner. Even though he's got a little age on him, he shows the flashes of brilliance. If they have Antonio Brown back, that will help, too. I think it will be fun to watch. ... BUCS, 42-35
Jason Lawson (Cherokee)
Since I coach a team named the Chiefs, I definitely have to go with the Chiefs and what I'm used to. It's a unique matchup with the legend Tom Brady going against Patrick Mahomes, who appears to be on his way to a legend. With Mahomes' mobility, all their speed and Andy Reid as head coach, I'm going with an old- fashioned shootout. ... CHIEFS, 45-42
Jesse McMillan (Volunteer)
Being a D-B alum, I have to go with Daniel Kilgore. They're really good up front and Mahomes is playing like he's from another planet. Tyreek Hill is outstanding, too. As I've gotten older, I've become a Tom Brady fan and the Buccaneers have played well the last few weeks. ... CHIEFS, 31-21
Shawn Witten (Elizabethton)
The Chiefs' offense is way too good, but it's a game that could come down to which quarterback has the ball last. What's impressive about Brady and the Bucs' run, he beat Drew Brees and Aaron Rodgers. Now he's going against Mahomes, but I like the Chiefs' offense with Travis Kelce and Tyreek Hill. They're too tough to stop. ... CHIEFS, 35-31
Jeremy Jenkins (Daniel Boone)
The game's in Tampa and I think they're playing the best they can right now, especially on defense. They did a good job with Rodgers and I think they will do the same with Mahomes. I think they will have a good game plan not to let Hill have the big plays. I wouldn't bet against Brady in a big game. ... BUCS, 31-28
Hayden Chandley (David Crockett)
There was a lot of skepticism of how Mahomes would come back from his concussion, but he answered all the guys who were questioning him. The Chiefs have such a high-powered offense and their defense also looked good in the AFC championship game. Their defensive backs will make plays down the stretch, although if Tampa can run the ball and control the game, they will keep it close. ... CHIEFS, 34-24
Stacy Carter (Science Hill)
I think Hill, their receiver, is the best player in the league. Nobody can run with him. He makes the pros look slow. I've never seen anything like that and their quarterback is unbelievable. Tampa may be able to get pressure with four (linemen), but it does no good with Mahomes because he finds that little time for guys to get open. ... CHIEFS, 34-21
Mike Rhodes (Eastside)
I'm going with Brady and the Bucs. One, you can't bet against Brady and their front seven on defense is going to be the difference. They flat out get after it and are as physical as anyone in the NFL. ... BUCS, 31-24
Keith Warner (Twin Springs)
The best phrase I have heard so far is "GOAT vs Baby GOAT." I think that can sum it up. Even though I'm not a Brady fan, you can't argue his greatness. I'm going to go with the Chiefs winning since they are first overall offense in terms of total yards per game and passing yards per game. ... CHIEFS, 34-31
Jacob Caudill (J.I. Burton)
I'm going with the Bucs. Mahomes is a really good player, but he's beat up. The Chiefs are the defending champs, but Tom Brady, the GOAT, is on the other side. If Michael Jordan steps on the court or Tom Brady steps on the field, I'm not betting against either of them.
Cheyenne Osborne (Rye Cove)
I'm going KC. You can't deny what Tom Brady and Tampa are doing, but Mahomes and crew are just too dynamic. It will be interesting to see how much homefield plays into this one, too.
Jeremy Houseright (Gate City)
I really haven't watched much NFL, but I'm going with Brady. ... BUCS, 27-24
Nicholas Johnson (Thomas Walker)
Kansas City's offense is too good. ... CHIEFS, 38-31
Travis Turner (Union)
Kansas City to win. Too many offensive weapons.