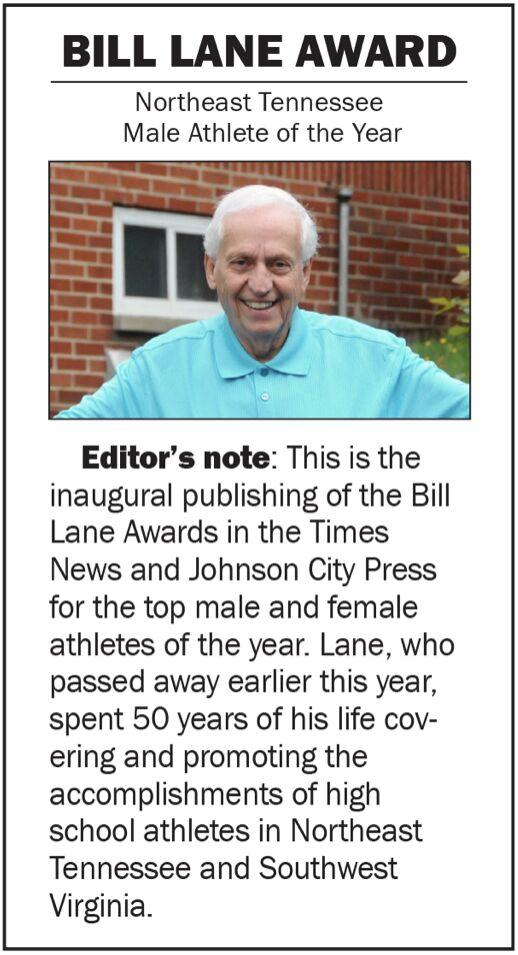 There wasn't a time during the school year when Morgan Lyons wasn't contributing to state-level success at Hampton.
From August to May, Lyons was one of the best players in Northeast Tennessee.
For his exploits, the 6-foot-2, 205-pound Hampton senior was chosen the Northeast Tennessee male athlete of the year as part of the inaugural Bill Lane Awards.
In football, Lyons played a key role in helping the Bulldogs reach the TSSAA Class 2A championship game. In the title-game loss to Martin Westview, Lyons carried 14 times for 62 yards and caught three passes for 39 yards and a touchdown.
"He was a do-it-all athlete," football coach Michael Lunsford said. "I think the only positions he didn't play during his career were quarterback and offensive line. He could do anything he wanted on the football field."
When basketball season rolled around, Hampton relied on his performances once again.
After helping the Bulldogs rack up 26 wins to get to the state tournament, Lyons had 17 points and 10 rebounds in the quarterfinal win over West Carroll. And in the heartbreaking overtime loss to East Robertson in the semifinals, he had 19 points and eight rebounds.
"He was a tough wide-open, big-time player in the clutch," basketball coach Ned Smith said. "He was a hard-nosed scoring and rebounding machine."
That would have been enough for most folks because many can't handle the rigors of playing three sports. But Lyons not only handled it, he excelled.
He helped Hampton's baseball team earn a school-record 24 wins and reach the Class 1A sectional round, just one win short of a state tournament berth.
A batting-order member of the Super 22 team, Lyons produced an eye-popping on-base percentage of .557 and added 40 runs to a batting average of .427. He also drove in 35 runs and struck out only six times all season.
"Morgan is a rare athlete in that his football, basketball and baseball coaches can all make a legitimate argument that their sport is his best sport," baseball coach Nick Perkins said. "He is strong, confident and coordinated. He could play any position on every team he played on. For our baseball team he was a run producer and game changer."
He's also a team guy.
"His willingness to move from behind the plate to third base for the postseason, and playing lock-down defense there, only adds to his baseball legacy," Perkins said. "You do not replace athletes like Morgan Lyons."