BRISTOL, Tenn. — It's not every day your editor walks into the newsroom and says, "Marina, I'm going to give you $200."
Now, before you try to snap up the first open reporter position you can find, thinking you'll get random loads of cash from your editor, let me explain.
"But it's imaginary," he continued.
It seems I suddenly heard the pitter patter of feet running away from the idea of being a reporter when you read that last sentence.
My editor offered me an imaginary $200 to spend on the Tennessee side of State Street in Bristol. My coworker, John Osborne, was assigned the Virginia side. (I'll note that I received an imaginary wad of cash while John had to settle for a Visa gift card of imaginary dollars.)
I was all too excited to have earned the Volunteer State portion of the street when I remembered what place I'd get to venture back into: Uncle Sam's.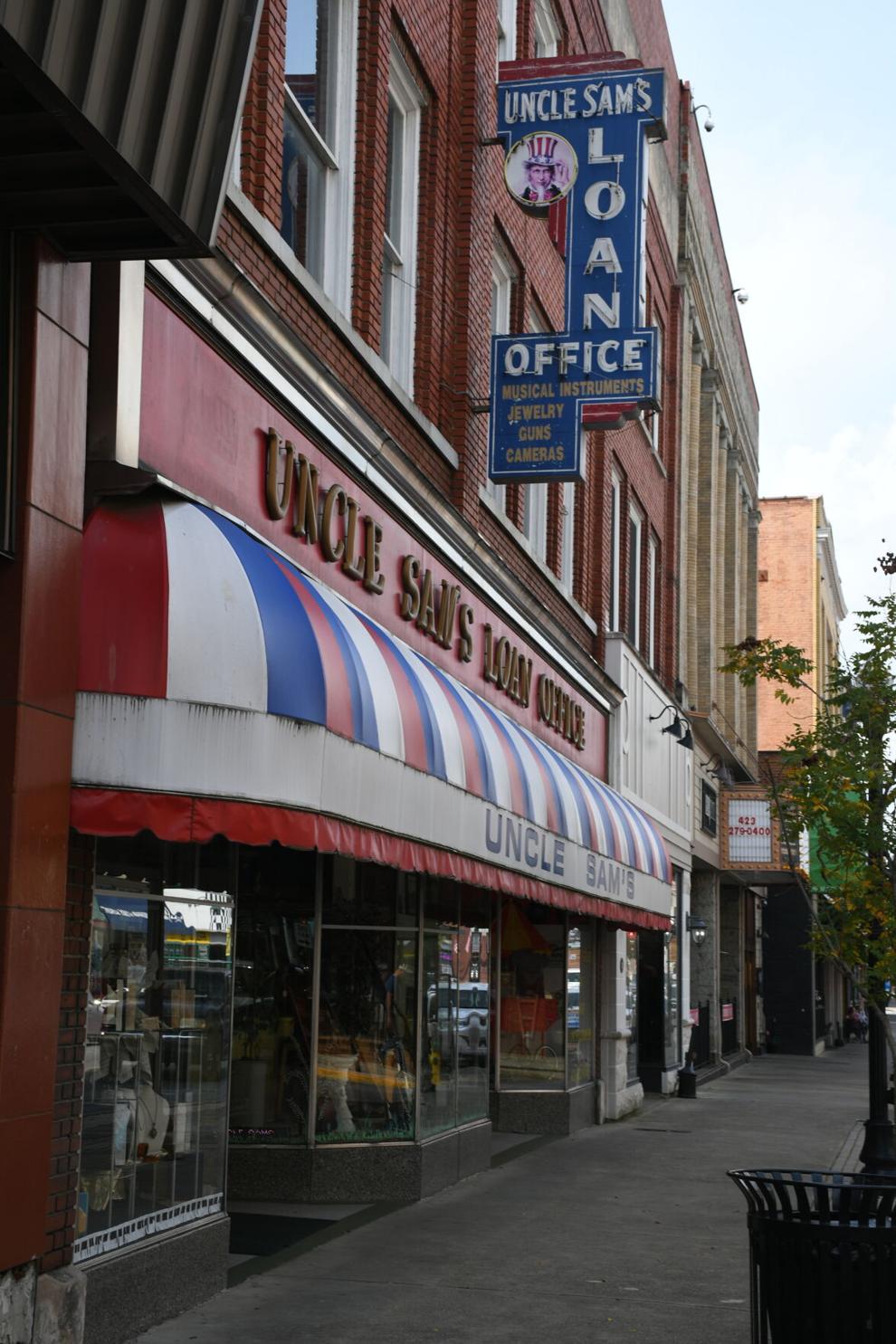 Now, I'm not saying spend all your money at Uncle Sam's (or do — especially if it's imaginary and there's more where that came from). But this is where I was really tempted to spend every last invisible dollar I had.
You know the building. It's the patriotic, red-clad loan office and pawn shop building on the east end of State Street. It has guitars, chainsaws, necklaces, guns, and cassettes — all in this sprawling, old building that is just asking to be adventured through. It's never hard for me to find the instruments in a place like Uncle Sam's. And that's the first place I gravitated to on a rainy Tuesday afternoon.
I found a row of electric guitars and acoustic guitars, but as always the hallowed wooden six strings caught my eye over its electric counterparts. So my first imaginary purchase would be a Yamaha Compass Series acoustic guitar with a cutout (for easy picking on the high end of the neck of the guitar) for $90. As tempted as I was to buy the 1963 pocket knife that just looked like it belonged in Uncle Sam's, or a shiny harmonica in a nearby jewelry case, I suggest you move on from the wonder that is Uncle Sam's to try to spend your dollars in a couple of other places.
If you venture back down the west end of State Street toward Kingsport, there's a nifty old building tucked onto 7th Street. LC King started manufacturing hardy denim jackets, pants, overalls and more in 1913, and the company is still at it right there in Bristol. I'm a sucker for well-made items that are made in the good ol' USA, so this was an obvious place to spend some dough. Now, like at Uncle Sam's, I could have spent all of my fake money at LC King's, but I do have some restraint. So I tried to forget the rugged farm jackets (which I will gladly add to my birthday and Christmas list) and opted for a denim baseball cap for a cool $30.
So far I've been only to two places and have spent over half of my money. But it's a snazzy hat that will fit the look I'm going for with that beauty of a guitar — or maybe I'm just a sucker for a good baseball cap and an acoustic guitar.
From there it's high time to dive into the Tennessee side of State Street's dining options.
My coworker and I noticed some differences in our State Street counterparts. The Virginia side seems to have plenty of antique stores. Walk down the street and take your pick! Meantime, Tennessee offers more dining options and entertainment.
The Virginia side may have the mother of music sites with the Birthplace of Country Music Museum, but the Tennessee side of State Street has loads of restaurants and bars with music spaces along with the Paramount Theatre. During the Bristol Rhythm & Roots Reunion in September, music is heard every few yards coming from places like Delta Blues and Borderline Billiards. For a daytime option, though, the Angry Italian is the perfect place for a chance to renew and count the rest of my invisible money.
A crispy, cheesy pepperoni and Italian sausage 12-inch pizza with an ice cold Coca-Cola, along with a tip, will land you at about $20. It's well worth it and I'm gonna bet you'll have leftovers.
If you head back down State Street toward the giant Bristol sign, the Paramount is an eye-catcher. And that list of upcoming events is a tasty one.
Country singers like Sara Evans and Trace Adkins and Diamond Rio are planning to play in the next few months, and I'm intrigued. I really just want to hear "Honky Tonk Badonkadonk" and "Ladies Love Country Boys" and pretend it's the early 2000s, so I opt for a ticket here. But if you're following along, that would put me over my $200 limit.
But I've got a plan.
At this point, I go back to Uncle Sam's (yes, the place I told you to leave before you spent more money), and buy that Fender amp for $50 to plug into my fancy new acoustic guitar and a harmonica for my remaining amount and busk on the street until I earn my $75 for a ticket to the Paramount. I do know how to play the guitar. I don't, however, play the harmonica. Maybe my editor will pitch in a little more for harmonica lessons. Or maybe in this imaginary scenario with imaginary dollars I'll miraculously know how to play it.
So if you see a girl in a denim hat with an acoustic guitar picking tunes on State Street, drop a few dollars in my empty Angry Italian drink cup and know on the Tennessee side of State Street, you've got all sorts of dining, music and entertainment options to keep you roaming the sidewalk — and looking for more imaginary money to spend.