MOUNT CARMEL — Police said a Hawkins County man who attempted to make a purchase at a Mount Carmel tobacco store with a fake $10 bill was found in possession of 66 phony $100 bills, as well as several smaller denominations.
Terry Joe Arnold, 25, 120 Hoskins Lane, Church Hill, was arraigned on Monday in Hawkins County Sessions Court on charges of criminal simulation and simple possession.
Shortly before 9 p.m. on Thursday, HCSO Deputy Daniel DesOrmeaux responded to a report of a male attempting to pass a fake $10 at Tri-City Wholesale Tobacco at 160 W. Main St.
DesOrmeaux stated in his report that when he arrived at the store the clerk showed him the fake bill, and then pointed out Arnold, who was still in the store.
The clerk told DesOrmeaux that Arnold attempted to pay for his items with a $20 and a $10, but when the clerk ran the test marker over the $10 it tested as inauthentic. The clerk further stated that when Arnold saw the clerk testing the $10 he told the clerk he'd given him the wrong money.
DesOrmeaux reported that when he searched Arnold he located 66 fake $100 bills, seven fake $10 bills and three fake $5 bills in his left front pants pocket. In his right front pants pocket DesOrmeaux reported locating a canister that held 1.5 Buprenorphine pills.
'Microsoft' scam costs elderly woman $20K
An elderly Hawkins County woman reported to the HCSO on May 6 that she'd been conned out of $20,200 after receiving a message from "Microsoft" stating that her computer had been compromised.
The 69-year-old victim told HCSO Deputy Adam Bledsoe that the Microsoft message stated that money had been taken from her account, and she was advised that she needed to transfer money from her account into another account in order to protect it from further fraud.
The victim stated that she had been speaking to a man identifying himself as Alejandro Jose Mena Mendez of Lima, Peru, but after the funds had been transferred to an account in Peru, she discovered that the number he'd called her from was disconnected and that she'd been swindled.
Suspect attempts to swallow 'the last of my dope'
Lisa Ann Brewer, 57, 374 Midway Church Road, Mooresburg, was arrested on May 2 and charged with possession of drug paraphernalia, tampering with evidence and resisting arrest after police observed a meth pipe in plain view in her residence while assisting Sullivan County deputies who were serving an arrest warrant on another person.
HCSO Deputy Adam Bledsoe reported that when he asked Brewer about the pipe he observed Brewer attempt to conceal a baggie in her hand and state that was "the last of my dope and you aren't getting it." Bledsoe reported that a brief struggle then ensued and Brewer then tried to swallow the crystal substance believed to be meth, which destroyed the substance.
After Brewer had been cuffed she slipped her hand through a cuff and stated, "you aren't taking me anywhere," resulting in another scuffle, Bledsoe stated in his report.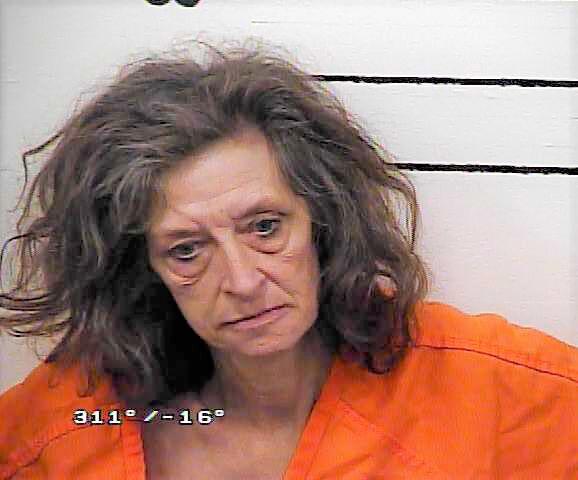 Husband accused of using gun to get TV
Joshua Ethan Perry, 20, 1841 Fort Robinson Drive, Kingsport, was arrested on May 5 and charged with aggravated assault after he allegedly entered his wife's apartment on Watterson Street brandishing a handgun.
Kingsport Police Department Officer Cassidy Woods stated in his report that the victim reported that Perry and his mother, Amy Frost, entered her apartment uninvited, and that Perry was carrying what appeared to be a revolver and went upstairs where their children were sleeping. The victim stated that Frost attempted to take her TV and when the victim tried to retrieve it, Frost threw her and the TV to the floor.
The victim told police that Perry came downstairs and pointed the handgun at her, then took the TV and exited the apartment. The victim said Frost then struck her five times with a closed fist. A neighbor told police she saw Perry enter the apartment holding a handgun. Perry and Frost denied the assault or being armed and told the KPD the TV belongs to Perry. Frost was charged with simple assault.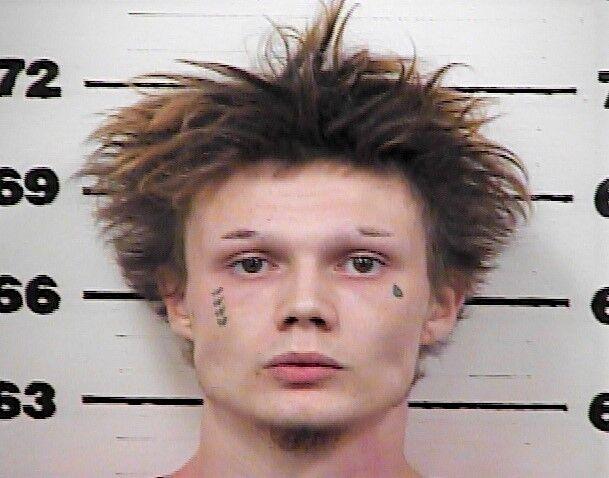 Parked and passed out on Route 66N
Shenessa Leigh Lawson, 38, 8941 Route 66, Sneedville, was arrested on May 4 and charged with possession of meth, possession of marijuana, possession of Gabapentin, possession of drug paraphernalia, driving on a revoked license and public intoxication after Deputy Ed Rodriguez reported finding her passed out and parked in the middle of Route 66N near Richardson Creek Road with no lights on shortly before 1 a.m.
Rodriguez stated in his report it appeared she wasn't breathing and it was difficult to get her to respond. Eventually she opened her car door, at which time he observed a syringe in the center console. Lawson stated the needle wasn't hers. Rodriguez reported that he had to return to his patrol car because his handheld radio wasn't working in that remote area, during which time Deputy Stephanie Bolognese arrived on the scene.
Rodriguez reported that when he returned to Lawson's vehicle the syringe was gone. Bolognese then patted down Lawson and allegedly found a small baggy of meth and a baggy of Gabapentin pills. Upon searching the vehicle deputies reported finding marijuana, a pipe and a grinder.