ROGERSVILLE — The Hawkins County Schools System will take suggestions via online survey until July 1 on how to spend $16.4 million in federal stimulus funding.
An application to the Tennessee Department of Education outlining the school system's plan for the funding is due Aug. 15. The online survey can be taken at the Hawkins County Schools website at https://www.hck12.net/.
Last week, Director of Schools Matt Hixson and other school administrators hosted a public hearing on Zoom in which Hixson outlined how the district is proposing to use the funds.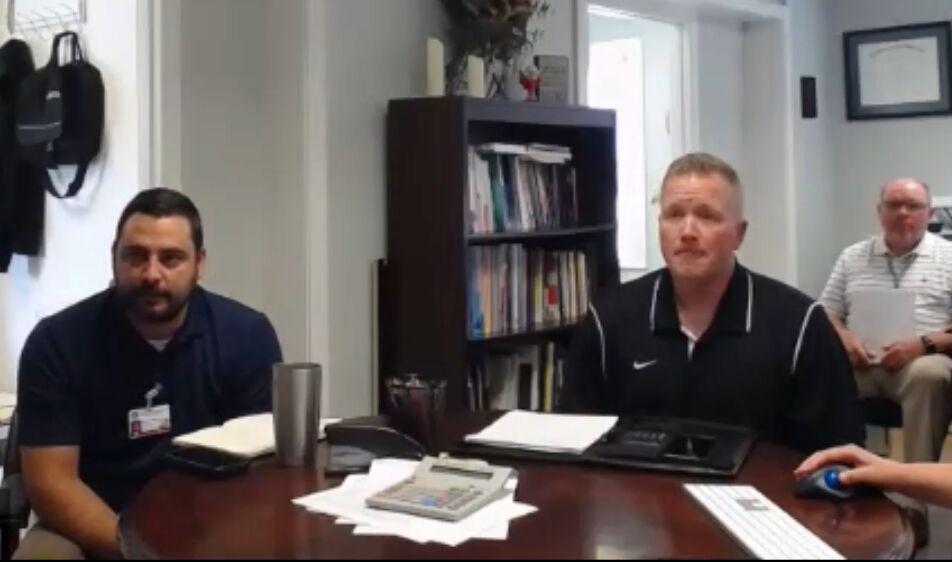 Hixson said 20% of funds need to go toward educational gap closure.
That refers to any instructional gaps that occurred when schools closed due to COVID-19 as well as gaps that occurred as a result of virtual instruction, going back and forth from virtual to the classroom, and changes in instruction that may have obstructed access to content.
Hawkins County is meeting its educational gap closure requirements by implementing summer school programs for three consecutive summers beginning this summer.
Hixson said seven summer school locations are spread across the county with more than 600 students signed up. Students attend six-hour days Monday through Thursday, which is costing approximately $2 million for the one month it is in operation.
This year's summer school ends Thursday.
What is ESSER 3.0?
ESSER stands for Elementary and Secondary School Emergency Relief fund.
Tennessee public schools will receive over $4.5 billion in federal relief funding that can be used through the fall of 2023 to support K-12 schools and students across the state.
This is the third round of ESSER funding. In ESSER 1.0, Hawkins County received $1.7 million that went largely to summer school costs and instructional technology purchases. The district also supplemented instructional support between ESSER 1.0 and 2.0 with on-site math interventionists.
As for ESSER 2.0, Hawkins County received $7.3 million that mostly went toward the HVAC projects at Cherokee and Volunteer high schools.
Other uses for ESSER 2.0 funds included technology purchases, summer school for the following year, instructional interventionists, security entrances and upgrades across the system, ionization and air filtering upgrades, exhaust hoods in high school kitchens, special education staff support including speech pathologist and a systemwide technology and curriculum inventory system.
What are the proposed uses for ESSER 3.0?
Hixson has a long list of potential uses for the $16.4 million, but at the top of his list during last week's public hearing was math interventionists.
"One of the areas our data is showing that's lagging due to COVID closure is the area of math, so we're looking at some additional positions there," Hixson said. "We're looking at two additional math teachers for our high schools. One of the biggest areas is, when we were forced to close last March and then came back with a late opening this fall, students didn't have access to math courses that are required of them prior to graduation."
Additional staff in the high school will allow them to "get more students through" Hixson said, specifically in the algebra and algebra 2 courses.
They're also looking to hire two graduation coaches, who would target at-risk high school students and make sure they stay on track for graduation.
Other positions Hixson hopes to fill using these funds is a behavioral interventionist, two technology integration positions to help teachers in the classroom and specialized contracted services such as speech and mental and emotional support.
Hixson hopes to use the ESSER funding for some facility improvements such as installing air conditioning in 10 school gymnasiums across the county where that is needed; water bottle filling stations; playground surface upgrades; a walk-in cooler for CVES; and school entrance safety additions.
"The biggest blessing of this ESSER money is if you take the 20% off the top that has to go toward instructional support and gap closure, the rules do allow us identifying large expenditures in the realm of infrastructure and maintenance," Hixson said.
They are also planning some malware and anti-virus upgrades due to recent attacks on the school system. Hixson told the BOE earlier this month that the school system's payroll department was hacked and a $3,000 payroll check was deposited in a hacker's account.
Earlier this year, the school system had an email malware attack that shut down its computers for a couple of days.
"We've already put some tools in place, but we'd like to go across the board to make sure we've got upgrades that are consistent with the attacks that are out there awaiting us," Hixson said.
They are also planning the expansion of CTE (career technical education) programs such as on-the-job training for students. Hixson said there are also some potential collaborative efforts between the school system, Hawkins County EMS and county government regarding school safety and communication.
"I do want to add that none of the ESSER money can be used on sports programs or admin salaries," Hixson said. "All projects (paid with ESSER funds) are coming off the deferred maintenance list and will ultimately save the tax payers from shouldering the burden of some of these costly projects. We are trying to get as far down the road as possible with these one-time funds. Everything has to be approved and documented through TDOE from start to completion."
The video of last week's ESSER 3.0 public hearing can be seen in the online version of this article at www.timesnews.net