BLOUNTVILLE — Over the course of eight days in the summer of 2018, Allegiant Flight No. 841 twice struck birds during takeoff from Tri-Cities Airport.
"On departure climb off Runway 23 at TRI, AAY841 reported to local controller they had hit multiple small birds," states a report submitted to the Federal Aviation Administration about the incident on July 2.
The same flight struck several birds the morning of July 9 during takeoff. Moments before departure, an airport employee had tried to disperse the birds with a pyrotechnic device that makes a loud bang.
July is the month with the greatest number of strikes, with 36 reported over the past five years, according to a Times News analysis of the FAA's Wildlife Strike Database.
In all, the Times News examined 74 strikes between April 5, 2016, and April 5, 2021, at Tri-Cities Airport and discovered the following:
• Sixty-five of the strikes involved commercial passenger aircraft.
• Roughly 77% of strikes happened between July and October, when nesting and migration occur.
• None of the strikes resulted in injury, death or significant damage to aircraft, thanks in part to wildlife mitigation protocols.
In contrast to Tri-Cities Airport, 1,269 strikes occurred at Memphis, 518 at Nashville and 111 at Knoxville during the same five-year period.
About 227,005 strikes with civil aircraft occurred in the U.S. between 1990 and 2019, according to the FAA.
An additional 4,275 strikes were reported by U.S. air carriers at foreign airports between the same years.
From 1988 to 2019, 292 fatalities were attributed to wildlife strikes globally, according to the FAA.
Managing wildlife
All airports certified by the FAA are required to develop and maintain a Wildlife Hazard Management Plan that is specific to the airport, the habitats around the facility and the overall wildlife environment.
Tri-Cities Airport, which handles about 39,000 landings and departures per year, spends about $3,500 annually on mitigation and does an annual review of its wildlife program.
"Avian wildlife is a major impact to this plan at most airports, but at airports in environments like we have here in Northeast Tennessee, birds are a greater consideration," Tri-Cities Airport Authority Executive Director Gene Cossey said in an email.
Cossey said airport operations, maintenance and public safety staff members constantly monitor the areas on and adjacent to the airport for wildlife activity.
Employees keep records of the activity and annually review the wildlife management plan for necessary revisions and to examine possible mitigation options, he said.
"Airport staff makes the safety of our flying public our number one consideration, and we are constantly working on the variables we have under our control to keep the airport safe and secure," Cossey said.
Wildlife coordinator
Lt. Scott Harrell with the Tri-Cities Airport Public Safety Department is the airport's wildlife coordinator. He uses a shotgun and revolver that make loud noises to disperse birds.
"We monitor birds crossing the runway," he said. "We monitor any kind of wildlife — sometimes coyotes, foxes — and make sure all the culverts are secure so nothing can come in."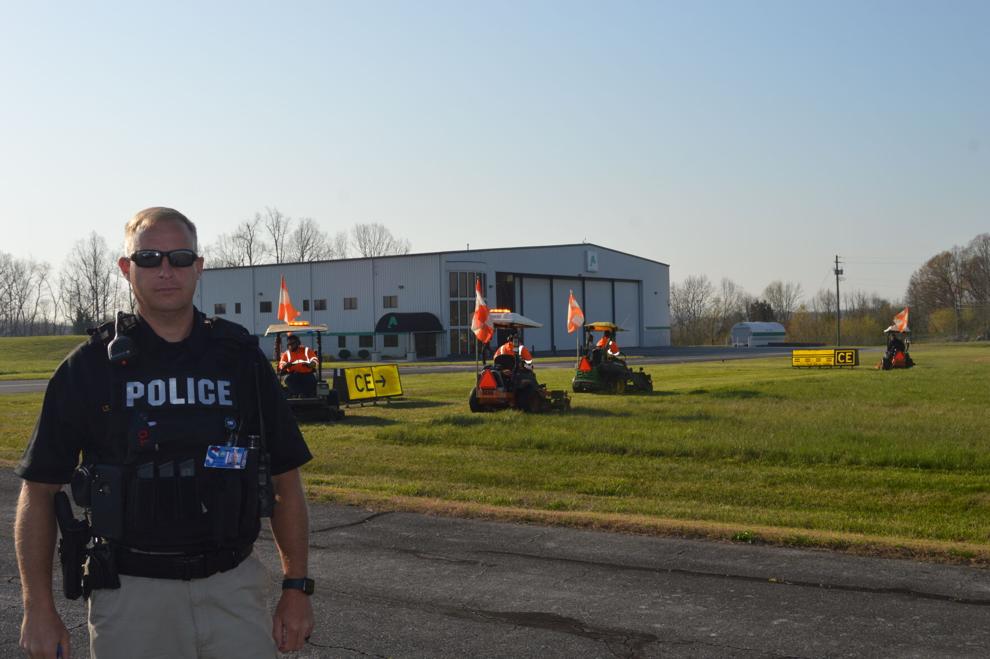 Tri-Cities Airport has 10- to 12-foot-high fencing around the airfield to keep larger animals out and a concrete base to block burrowing animals.
Wildlife strikes can be reported either by the airlines or the tower, Harrell said.
All public safety officers are trained in wildlife elimination procedures, and airport employees review methods and procedures every 12 months.
"We look at past strikes," Harrell said. "We review how we are dispersing harassment techniques."
Harrell said the number of strikes increases in the summer due to airfield mowing and birds nesting.
About 53% of bird strikes occur from July to October, according to the FAA. This is when young birds recently have fledged from nests and fall migration occurs.
There are four migration patterns in the U.S., and Blountville is located between two of them.
The Mississippi Flyway crosses the airport's path, with more than 325 bird species making the round trip from their breeding grounds in Canada and the Northern U.S. to their wintering grounds in the Gulf of Mexico and in Central and South America, according to the Audubon Society.
Additionally, the airport is in the Atlantic Flyway, which the Audubon Society says is home to a wide variety of ecosystems.
Feather identification
The Smithsonian Museum of Natural History's Feather Identification Lab in Washington, D.C., conducts research into identifications of birds that are ingested into aircraft engines.
Airports, including Tri-Cities, send bird remains to the lab if they want to identify the specifies.
"Reporting wildlife strikes is crucial to the continuing effort of birdstrike prevention," according to information on the lab's website.
"Identification of bird species involved in bird/aircraft strikes is an important part of the overall assessment and management of wildlife mitigation at airports."
Knowing the exact species provides guidance about the size, behavior and ecology of the bird in question and is key to tracking species trends as well as focusing preventative measures, according to the website.
Notable strikes
The requirement to have a wildlife management plan began after the Jan. 15, 2009, bird strike involving US Airlines Flight 1549 piloted by Chesley "Sully" Sullenberger. Sullenberger successfully landed on the Hudson River after striking a flock of geese.
The first reported bird strike was by Orville Wright while flying over a cornfield in Ohio in 1905, according to the FAA.
The deadliest event happened Oct. 4, 1960, according to the FAA. Eastern Air Lines Flight 375 struck a flock of European starlings during takeoff from Boston Logan International Airport. The aircraft crashed in the Boston Harbor, killing 62 people.