MOUNT CARMEL — City Attorney John Pevy cautioned Vice Mayor Tresa Mawk against scheduling illegal meetings with other aldermen to discuss city business in violation of the Tennessee Sunshine Law.
Mawk admitted during the July 22 Board of Mayor and Aldermen meeting that she had invited three other aldermen to meet her in front of a city employee's residence, where the town had recently installed a small asphalt curb to divert rainwater from the employee's property.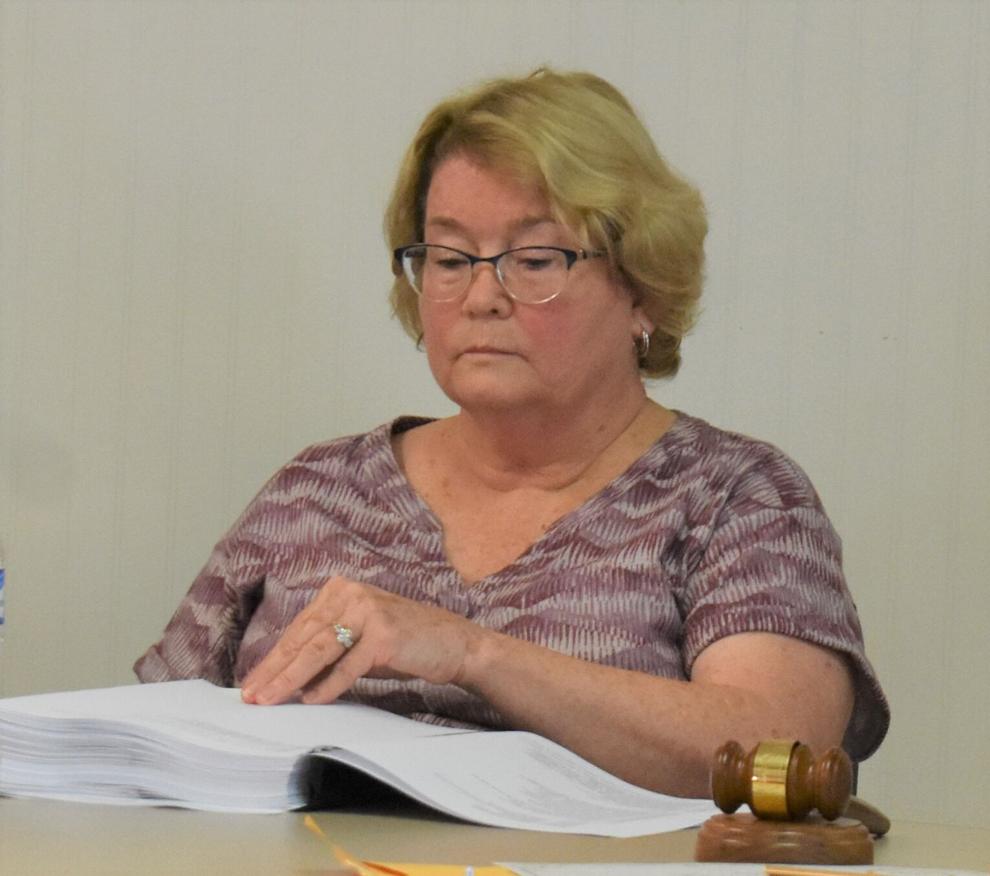 Alderman Darby Patrick was the only board member to join Mawk at the employee's residence.
It was the second time this year that Pevy has cautioned Mawk against holding illegal meetings in violation of the Tennessee Open Meetings Act, also known as the Sunshine Law.
Pevy reported to the BMA at its Jan. 28 meeting that when he heard about Mawk's scheduled meeting with two other aldermen and former sewer plant manager Fred Arnold, he contacted Mawk and advised her to cancel it because of a potential Sunshine Law violation, which she did.
There was, however, a document that Mawk distributed to some other aldermen at that time. Pevy told the BMA on Jan. 28 that would be another Sunshine Law violation. The document contained sewer plant-related drawings, questions and information written by Arnold.
To satisfy Sunshine Law requirements, Pevy read the contents of that document into the public record during the Jan. 28 meeting.
"I don't want the town to get in trouble"
Pevy told the board during the July 22 BMA meeting he doesn't want the town to end up in court violating Tennessee's Open Meetings Act.
"I'm not trying to harp on this issue, but we just can't do that," Pevy told Mawk. "The law is really clear, that even if you call it a fact-finding meeting, you still have to announce it to the public. It should also be posited to the whole board that they can attend."
Pevy added, "I don't want the town to get in trouble for an open meetings violation. Eventually, if we continue to not follow the law and hold unlawful meetings, it's going to happen."
Mawk told Pevy she spoke to an MTAS (Municipal Technical Advisory Service) attorney who said she wasn't guilty of any wrongdoing.
Mawk explained that the situation involved an elderly resident who complained that the streetlight in front of her residence was removed by the town at the request of a city employee who complained that the light was shining in the employee's window.
The elderly neighbor was concerned about losing the light due to bears being an issue in the neighborhood.
That neighbor subsequently reported to Mawk that the town installed an asphalt curb in front of the employee's home to divert rainwater, and the neighbor was concerned about water damaging her property.
Mawk said she invited Aldermen Darby Patrick, who attended, and she also invited Aldermen Jim Gilliam and John Gibson, who didn't attend.
"There was no deliberation," Mawk said. "No big secret. This was a lady who feels she's being mistreated by our city administrator. I felt like I had no choice but to go."
"How could I have handled this differently?"
Pevy noted that the law allows for site visits of ongoing projects and programs but what Mawk described doesn't fall into that category.
Pevy: "A citizen brought a matter of concern to you. It is literally her request that the board do something about this. If you're meeting about something that may come before the board for consideration, that is the problem. … Had you talked about the curb with Alderman Patrick out there, and it later came before the board, and the board takes action, we can get in trouble for that because the meeting occurred without notice."
Mawk: "How could I have handled this differently?"
Pevy: "You could have brought it before the board at this meeting."
City Manager Mike Housewright described the situation as a "neighborly dispute." He said Mount Carmel has a difficult time recruiting good employees.
Housewright added, "It doesn't help when you have board members getting in the middle of a neighborly dispute and showing up at an employee's house."
A lengthy, heated discussion ensued. There is a video of the entire discussion in the online version of this article at www.timesnews.net.
Toward the end of the discussion, Gibson said he received the same information that Mawk received about the streetlight dispute from the elderly neighbor.
"I brought that to the city manager and asked him to elaborate on it," Gibson said. "He told me what I needed to know about it. I didn't think anything was there. I didn't ask anything further."
Gibson added, "Then when it came to going to look at the asphalt, as soon as I figured out what was going on I picked up the phone and asked first, is this going to violate the Sunshine Law? The second question was what's going on with that? Can you explain it to me? Do you have examples of other people you've done that (asphalt curb) for? I believe you (Housewright) said 14."
Eventually the board approved Alderman Steven McLain's motion to end the discussion and take it up again at the next board workshop on Aug. 12.