ROGERSVILLE — Hawkins County's ad hoc committee that meets May 12 to determine the wisest way to spend $11.1 million in federal stimulus funding now has an additional $509,000 to work with.
Hawkins County Mayor Jim Lee returned from Nashville last week with a bit of good news from the governor's office.
Gov. Bill Lee announced to a group of Northeast Tennessee county mayors last week his plan to allocate $100 million as part of his Local Government Recovery and Rebuilding Direct Appropriation Grant for the 2021-22 fiscal year.
Gov. Lee had initially proposed $200 million in infrastructure grants, but in light of the federal stimulus funding that cities and counties are receiving, he agreed to cut that expenditure in half.
Each county would receive an allocation of $250,000, with additional funding based on population as of July 1, 2019. In Hawkins County, that amounts to $509,858.
Other proposed Northeast Tennessee allocations include $974,615 for Sullivan County; $842,032 for Washington County, $547,144 for Hamblen County; $566,066 for Greene County; $508,050 for Carter County; $331,834 for Unicoi County; $331,399 for Johnson County; and $565,984 for Hancock County, which receives a higher allocation than its population calls for due to it being a distressed county.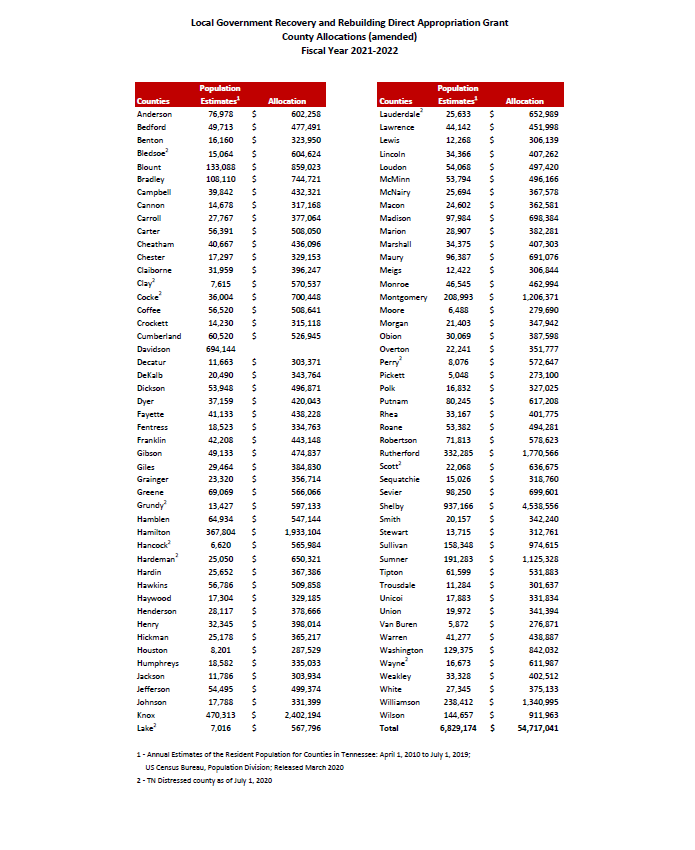 The only restriction for those funds is that they can't be used for recurring expenses such as salaries.
Last week, Hawkins County EMA Director Jamie Miller reported to the County Commission's Public Safety Committee that one lone bid had been received for the county's impending emergency radio system replacement project at the three antenna sites. That bid must be approved by the state before it comes to the County Commission for approval.
Mayor Lee told the Times News on Monday he hopes the commission chooses to use the Local Government Recovery and Rebuilding Direct Appropriation Grant funding to meet some other emergency radio needs in the county.
"The governor's budgeted funds should go for buying all of the public safety departments portable and mobile radios," Mayor Lee said. "This would complement the new repeater system that we are getting ready to build which will be bought with CDBG grant money. Some of these radios are over 20 years old."
The ad hoc committee appointed by Budget Committee Chairman Mike Herrell meets May 12 at 6 p.m. to begin discussing the best uses for the $11.1 million in federal stimulus funding that Hawkins County will receive in 2021-22.
Mayor Lee said Monday he has a few suggestions for the federal funding as well.
"I would like to see the county buy a truck and hire a full-time litter control officer," Mayor Lee said. "This officer could also work with jail inmates when available. The litter problem in Hawkins County is getting out of control. This officer could also investigate illegal dumping and prosecute the offenders in court."
Mayor Lee added, "We need to build up our fire, EMS, EMA and rescue squad. Some of these departments are in desperate need of new equipment. We need to invest money in the homeless and drug problem that we have in Hawkins County, and the money that is left over needs to be placed in the general fund for future needs."