The kids from H.O.P.E. — Help Our Potential Evolve — have been on the move! Together with Stella Robinette and Selina Hall they are learning through action with programs about healthy food at the Kingsport Farmers Market and about good table manners at the Carnegie in Johnson City.
Last weekend, during HOPE for Health, students gathered at the Farmers Market. Each young person (ages 11-19) was given $10 to spend on healthy food. They had a scavenger hunt to discover unusual vegetables — multi-colored carrots, varieties of tomatoes, and the beautiful flowers. They learned about healthy eating, nutritious snacks, and budgeting for food. At the end of the event, one of the farmers at the market gave them each a plant to take home with whatever change they had left.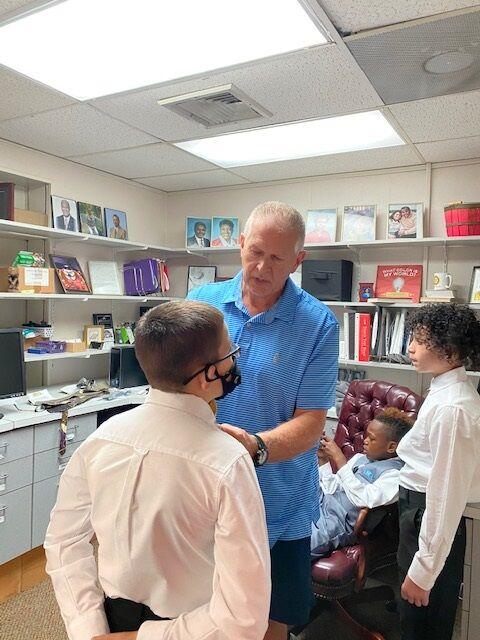 Then, on May 2, H.O.P.E. kids gathered at their headquarters on Watauga Street where they ironed the creases out of their dressy new clothes and learned how to tie a tie (thanks to volunteer Darrell Duncan). The students had previously visited Belk to shop for outfits appropriate to wear to a more formal event. They learned how to buy good quality, well-fit clothing at budget prices. On Sunday, all decked out in their new outfits, they headed for the Carnegie in Johnson City.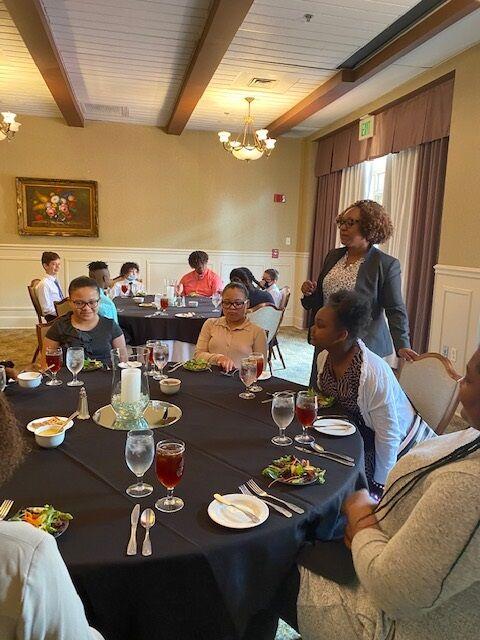 Selina Hall taught them about good table manners: napkin on your lap, passing food, using utensils appropriately, and saying "please" and "thank you." Good manners never go out of style! They also learned to open the door for each other and to help the ladies with their chairs. The Carnegie provided a three-course meal, and the food was delicious. Many volunteers contributed to make the clothes, the Farmers Market expedition and the special meal possible.
H.O.P.E. works year-round to help kids become all they can be. They encourage them in school, provide activities such as the ones at the Farmers Market and Carnegie, and work hard to teach them life skills, such as banking, college applications, car maintenance, etc. H.O.P.E. is about mentoring and teaching leadership.
One special young lady, Taniyha Phillips, is the current youth president of the organization. She has been with the group since age 12 and has gone from being shy and reluctant to being a clear leader. She graduates from Dobyns-Bennett High School this May and plans to attend East Tennessee State University.
H.O.P.E. lives up to its mission. With mentoring and consistency, they fulfill their calling. Would you like to learn more? Check out their Facebook page for upcoming activities.