Editor's note: This is the first in a two-part series from our Sunday Stories section, highlighting two One Act state champions from our region.
Eastside and Central high schools in Wise County are your Virginia High School League One Act state champions. If it seems you might have heard that before, there's good reason for that. But more on that later ...
When COVID-19 hit, no one knew if there'd even be a season for One Act — the dramatic art competition for advanced theater students that's just what it sounds like, one act. Normally a VHSL fall sport, it was delayed until spring. That meant students who also participate in Forensics would be doing double duty on rehearsals, performances and competition.
They'd compete virtually, the VHSL decided, which meant they'd be playing to empty auditoriums. Schools would submit a video of their shows, so judges could watch, review, critique and rank each one.
In the end, Eastside and Central did what they always do. They brought down the house — and they have the trophies to prove it.
---
In the most challenging of years, Shane Burke's Eastside Spartans rose to the occasion and earned an unprecedented seventh consecutive VHSL state championship in One Act.
When Burke chose to perform "The Tempest" by William Shakespeare this year, one couldn't help but wonder if there was anything new the Spartans of Eastside could bring to this familiar show — with its blank verse poetry, political intrigue, coy sense of humor and a script straight out of the 17th century.
Burke knew it might be a risk, but the play allowed several seniors who'd be appearing in their final One Act show for Eastside to shine. Olivia Adkins led the cast as Prospera, the deposed Duke of Milan.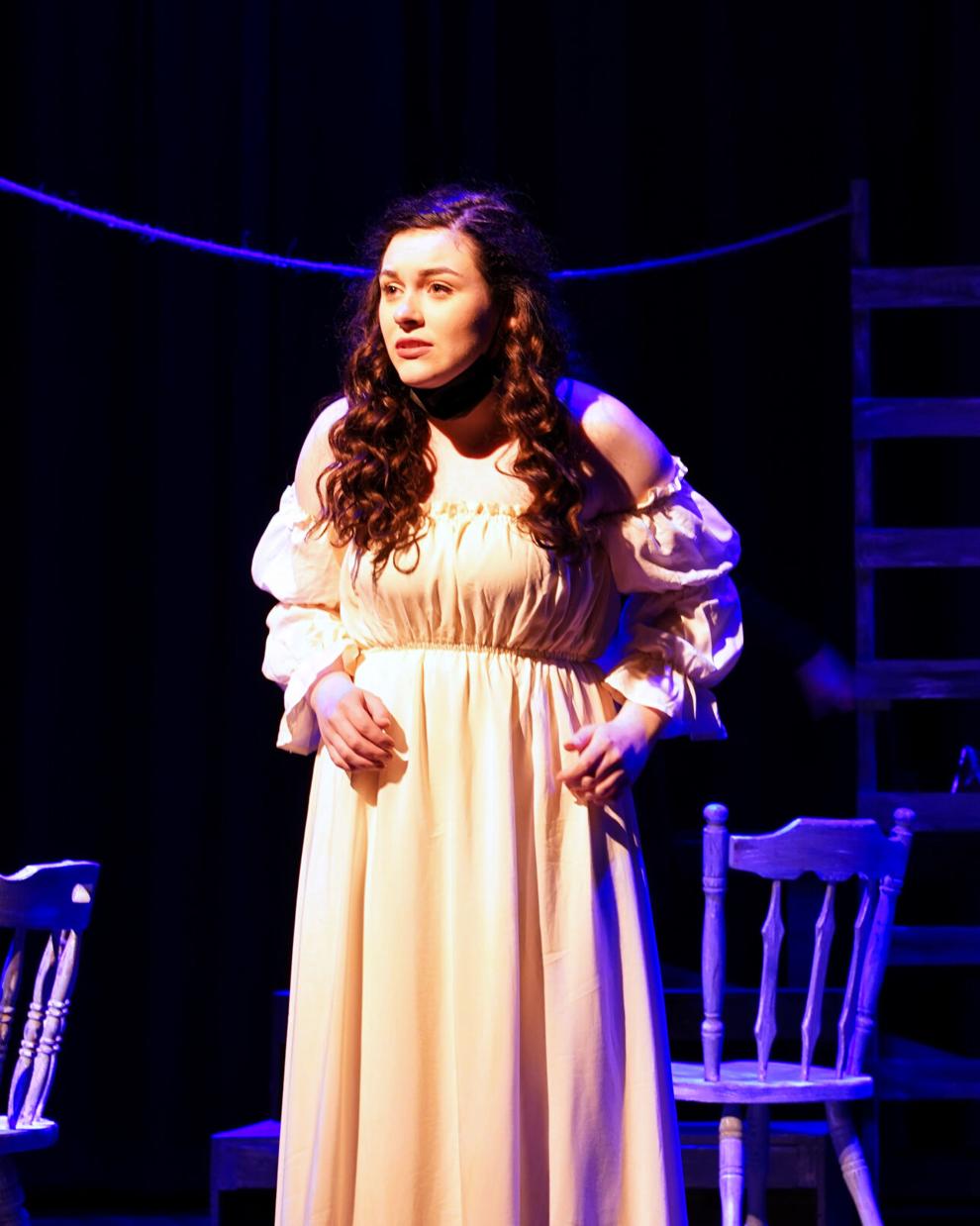 Hadassah White performed as Miranda, utilizing her vocal talents to sing some of her lines and to provide background vocals in different parts of the show. Sarah Burke portrayed Ariel, utilizing her skills as an accomplished dancer to portray her character's supernatural abilities; she also served as the show's choreographer.
Dallas Meade provided the voice of Caliban and was one of three puppeteers, along with underclassmen Kyleigh Harmon and Caitlyn Shepherd, to bring him to life. The puppet was designed and built by the students at Eastside.
Cloey Bailey and Katie Levy provided comic relief as Stephano and Trinculo, respectively.
Kaitlyn Maine ran lights, while Colby Farmer and Joseph Tankersley contributed their skills to audio and sound effects. The cast was rounded out by Jesus Rea, playing Alonzo; Tayler Banks, playing Gonzalo; Mikey Famer, playing Sebastian; Cassidy Funk, playing Antonio; and a quartet of Spirits, played by Cadence Fuller, Jasmine Harvey, Hailey Hill and Madison Kiser.
Prior to the team's district competition, senior Sarah Burke told her team, "Each one of you is amazing. It's crunch time and you have all pulled together to make this special." Adkins, also a senior, led the team in prayer, saying "Thank You for the joy that You have given us in performing."
After claiming the district crown, the Spartans went on to win the regional championship to set the stage to compete for the 2021 VHSL Class 1 state title yet again.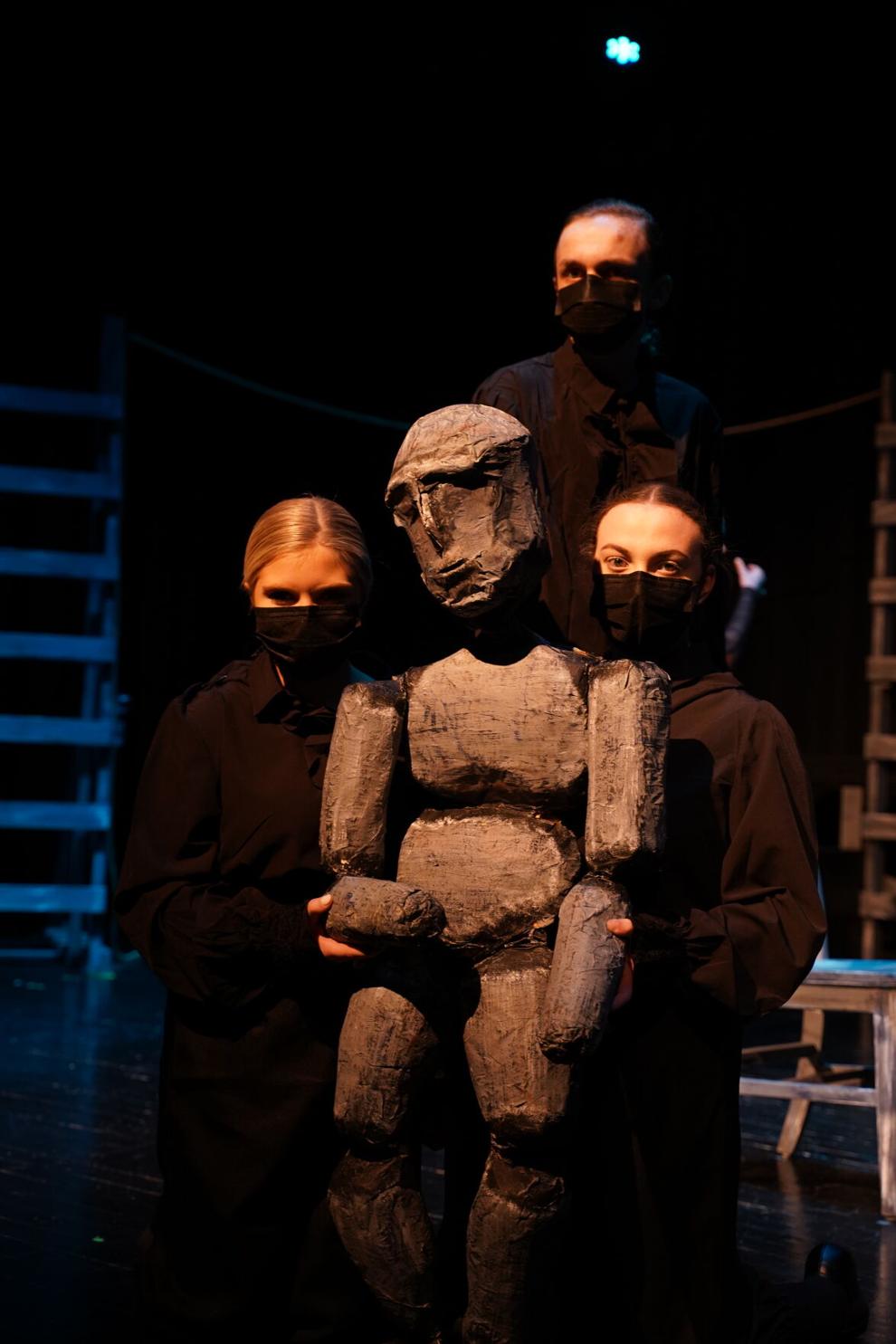 The lights came down; the recording began. One camera, one mic, with one view capturing the whole stage. No edits allowed.
Would the video prove effective to convey the emotion of the piece? Would judges be able to connect with the performers or would the physical distance impact their overall perception of the show?
With two perfect scores of 100 and two 99s, the Spartans got their answers and secured the VHSL Class 1 state title over runner-up Narrows High School to extend Eastside's record to seven straight state championships — a feat unmatched in VHSL theatre competition.
Adkins won an Outstanding Actor Award in all three rounds of competition. Sarah Burke, Malik Jallow, Meade and White also won acting awards during the season.
"To say I am a proud coach is an understatement," Coach Burke said. "I am especially happy for our seniors. This is an amazing group of kids."
Assistant Coach Heather Marchant said, "I'm so incredibly proud of our kids! In a season full of challenges to face and unimaginable mountains to climb, they stayed the course and did what they do best. This is such a talented group of kids. But above all else, they love and care for one another. That means more than anything else. Each of them committed to doing what they needed to in order to make this season happen. They are incredible and special in so many ways. I love each of them so very much."
White, who is headed to East Tennessee State in the fall, expressed her gratitude for Burke's guidance: "Even though it's been a challenging year, I feel like everyone pulled together to make something beautiful. We rose above the challenges of having to do it virtually. With the vision Mr. Burke provided and his faith in us, we crossed the finish line as champions."
Senior Katie Levy, who is headed to James Madison, said, "I'm not ready to say goodbye to all of these people, but at least we get to go out of this season as state champions! These people have taught me how to have empathy, confidence and strength; and for that I am eternally grateful. I would say the last three years of my life have been the best because I got to spend them with these people that have become family."
Maine, also a senior, had much to say about her team and their achievements.
"Nothing could have prepared me for my final season. I would have never expected my senior season to be virtual. Furthermore, nothing could have ever made me ready to let go of this team. To my team, I would give anything to have one more season with these beautiful people. Every single one of you taught me that family does not just come from blood, but it comes from love. Thank you for the best five years of my life."
As an accomplished competition dancer, Maine is no stranger to the stage. Yet, she found her place in the tech crew with Eastside. She handles lighting for One Act but is also skilled in other areas.
"When I joined in the eighth grade as a lighting technician, I almost quit. I didn't think I was ready for such an important job. I would have never been the person I am today without Heather (Marchant). Thank you for teaching me everything I know. Thank you for teaching me that even if I am behind the scenes, I am important," said Maine, who plans to attend UVA Wise in the fall.
For the One Act seniors at Eastside, this chapter of their story is coming to a close and it's hard to imagine a more successful one. But, for those who remain, they'll be gearing up for a new chapter next season — one in which they'll work to keep the winning tradition alive.