ROGERSVILLE — As of Tuesday, 122 police officers have been killed in the line of duty in the United States in 2021. That is three times more than the 40 officers who had been killed by this time in 2015.
On Tuesday evening, the Hawkins County Sheriff's Office and members of the community gathered outside the Justice Center to remember and honor those fallen officers, as well as the three fallen deputies who have given their lives in the line of duty in Hawkins County.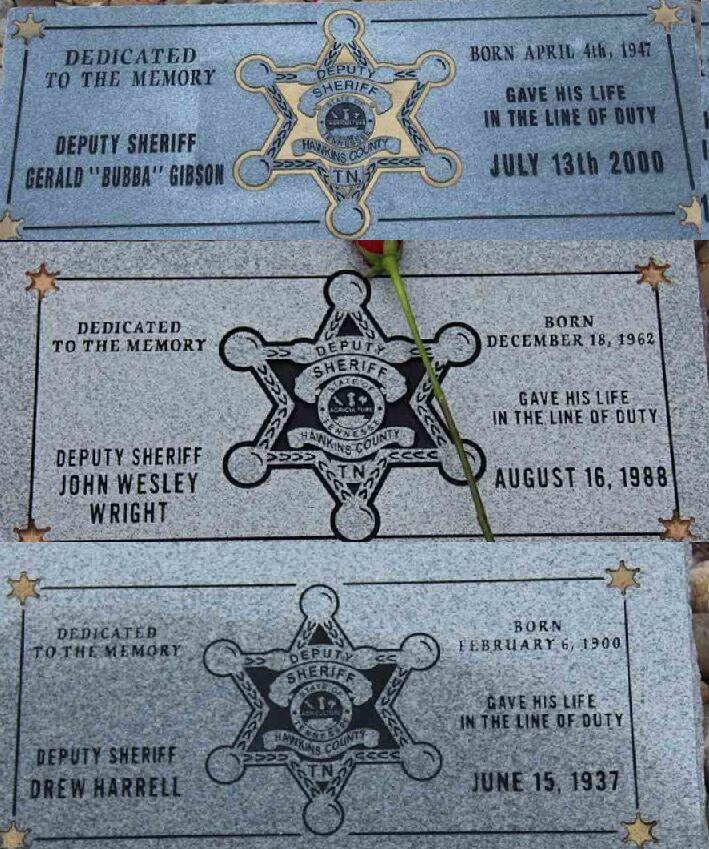 Chief Deputy Tony Allen noted that the HCSO's annual Peace Officers Memorial Service isn't held in front of the Justice Center.
The HCSO holds its memorial on the east side of the building at the officer and staff entrance.
"I run their names through my head"
That's where three marble memorials are located for Deputy Gerald "Bubba" Gibson; reserve Deputy John Wesley Wright; and Deputy Drew Harrell.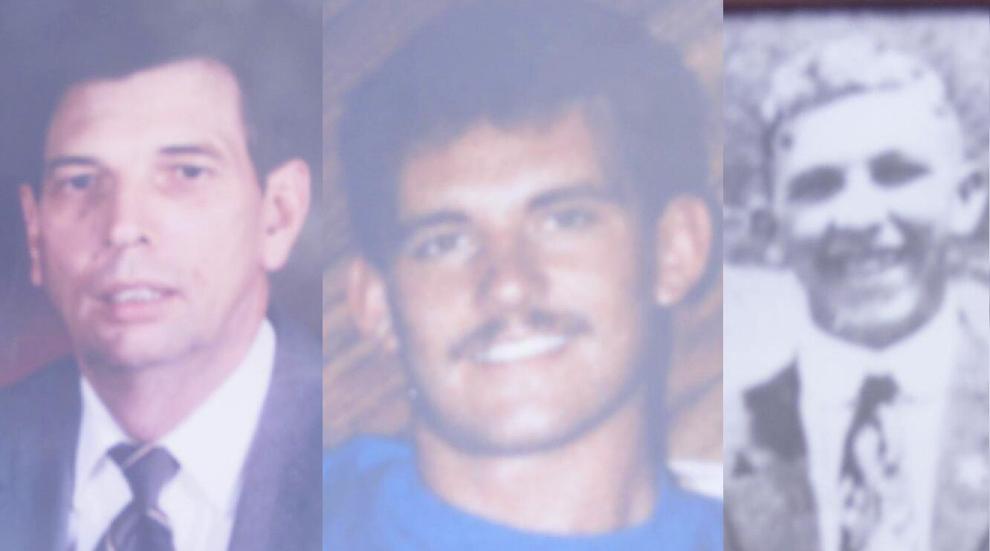 "The reason why that is, we will not forget the names of the officers who fell for the citizens of Hawkins County," Allen said. "Every day when I walk in I always look over, and I run their names through my head, and I know each and every other officer here does the same thing."
At the conclusion of Tuesday's ceremony Allen called out the names of the three fallen deputies to honor them.
Deputy Gerald "Bubba" Gibson was shot and killed on July 13, 2000, during a 13-hour standoff with a burglary suspect.
Reserve Deputy John Wesley Wright was shot and killed by another officer on Aug. 16, 1988, while assisting in the apprehension of an escaped convict.
Deputy Drew Harrell died on June 15, 1937, from injuries he received in a vehicular assault while trying to stop a fleeing suspect.
A video of the HCSO's entire ninth annual Peace Officers Memorial Service can be viewed in the online version of this article at www.timesnews.net
"We pray God gives you strength and comfort"
Members of their families attended Tuesday's service and were recognized by Sheriff Ronnie Lawson.
"I just wish that there was some way I could heal the hurt and the pain that each of you suffered," Lawson said during Tuesday's service. "I guess the best way that I can help you is to say that we think about you. We pray God gives you strength and comfort. And, we thank you for the sacrifice of your loved ones."
Lawson stated in his presentation that we are living during a time in history when law enforcement seems to be the most thankless work a person can do.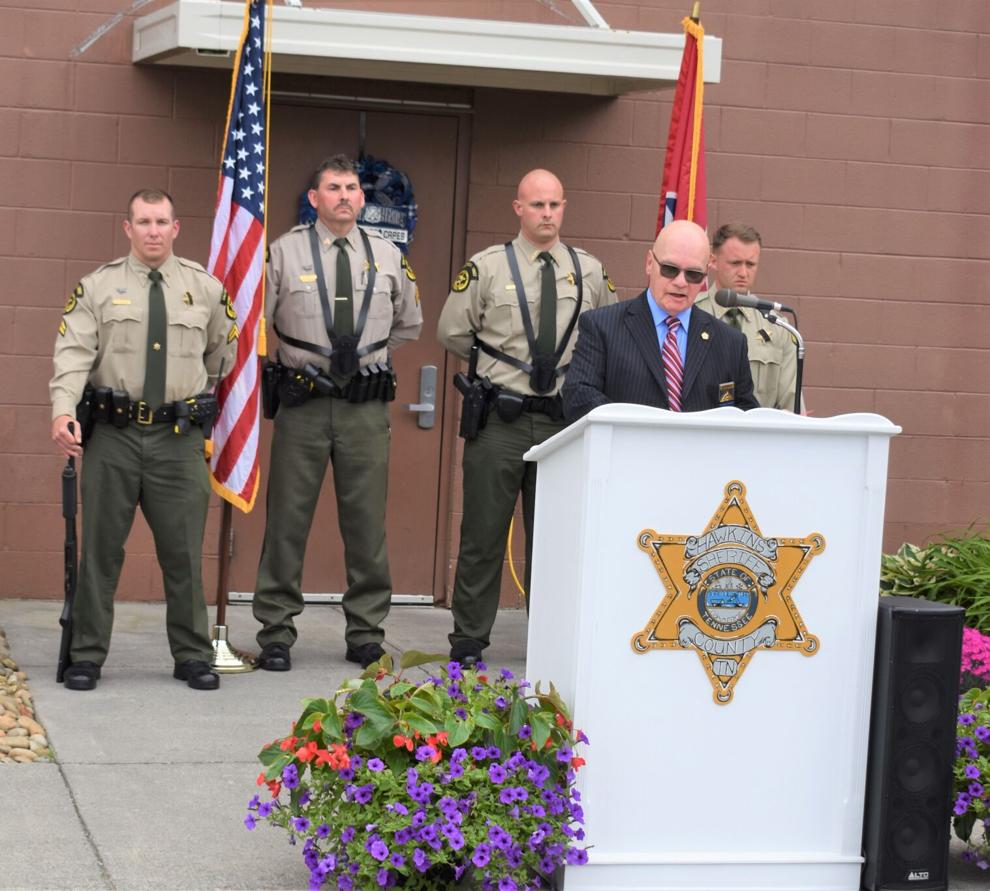 "I'm here to tell you it's one of the greatest professional callings that a person can ever have," Lawson said. "By taking an oath to serve and protect their fellow citizens, law enforcement officers answer a vital call, and accept profound responsibility every time they put on the uniform."
Lawson added, "Extraordinary Americans work to uphold our laws and serve on the front lines in a fight against crime and terrorism. It deeply saddens me to see how quickly some of America has turned against law enforcement officers. They seem to forget that these officers will give their lives for people that they don't even know."
"These we honor here tonight will not be the last"
HCSO Chaplain Rev. Rick Dinkins noted during his invocation that they were there to honor Hawkins County's three fallen officers, and all fallen officers across the country, "not for the way they died but for the way they lived."
"We remember them in the service that they have paid to this community," Dinkins prayed. "But Lord, these are not the only ones who have paid the ultimate sacrifice, giving their life for others. You set the tone when you gave your son Jesus to come to this world and to die on the cross, to pay for our sin debts."
During his message, Dinkins said he doesn't believe there has ever been a time when law enforcement officers have been willing to pay so great a price for a public at-large that seems to care so little about them and what they do.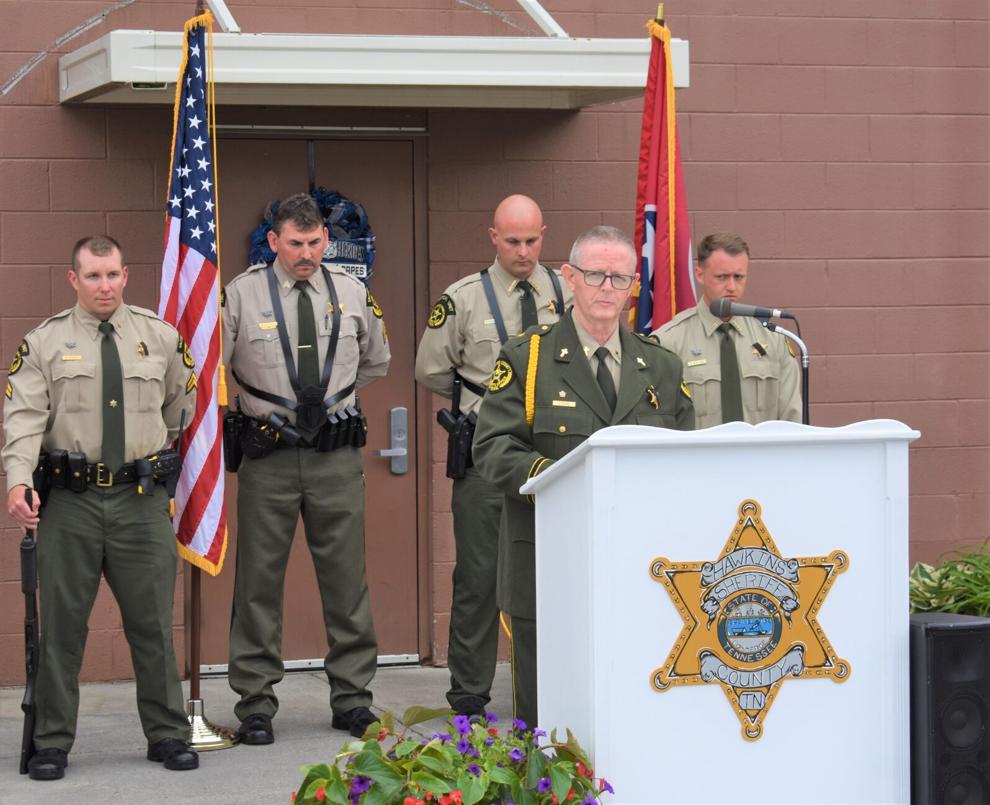 "In fact, we're living in a day when many have placed a target on the back of law enforcement officers, and so these we honor here tonight will not be the last, unfortunately, because others have these kind of ideals in their minds and in their hearts," Dinkins said. "But tonight I want to share a heartfelt thank you to each man and woman who is actively serving in the Hawkins county Sheriff's Office, and in any law enforcement across our land. But I also want to pay a great thank you to these family members and to these who have laid down their life in service."
During the ceremony, Rep. Gary Hicks (R-Rogersville) delivered a proclamation declaring May 9-15, 2021, as Police Week in Hawkins County "to honor the service and sacrifice of those law enforcement officers killed in the line of duty while protecting the community of Hawkins County, Tennessee, and safeguarding our democracy."