By JEFF BOBO
MOORESBURG — A couple from Colorado have spent the past nine months resurrecting one of Hawkins County's most historic properties with plans of turning it into a tourism attraction.
Ben and Kim Saari are part of what some locals are calling "the Great Migration" of people moving into the county from out-of-state.
Typical of most of these newcomers, the Saaris, who are in their early 40s, came looking for a better way of life from a place that was overcrowded and overpriced.
Last August, they finalized the purchase of the Marble Hall property in the Mooresburg community on the far western end of Hawkins County.
The history of Marble Hall
Marble Hall originally belonged to Orville Rice, who with partner S.D. Mitchell founded Tennessee's first marble quarry, the Rogersville Marble Co., in 1838.
Rice's dark pink "Tennessee Marble" was subsequently chosen as the official Tennessee stone to be used in construction of the Washington Monument in Washington, D.C., in 1850. In 1855, Rice contributed marble to build the interiors of the two new wings of the U.S. Capitol building.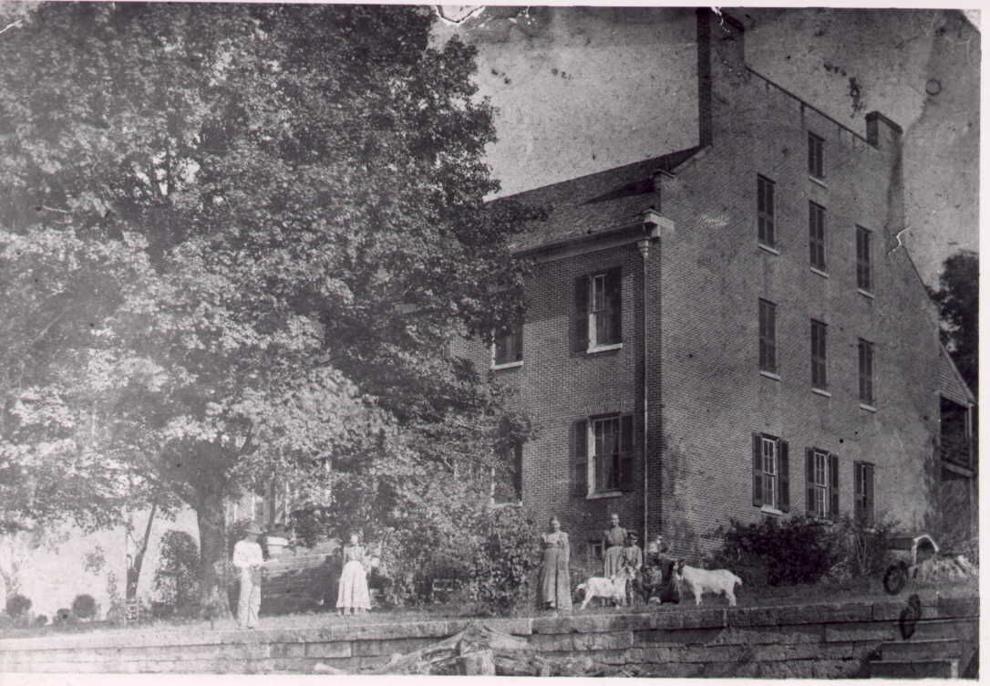 He also built the Marble Hall mansion, which was a showcase for his pink stone, but the original structure burned down in 1907.
Ben and Kim don't know what year the existing Victorian-style house was built. The deed states 1900, but they've been told by county officials that was a generic year assigned to properties from that era when the exact year wasn't known.
What they do know is that the house has been neglected, and despite eight months of renovations, they've still got a long way to go.
"Our draw was to be on the water"
The Saaris closed on the property Aug. 23 and arrived in September with their three dogs" Willie Nelson, Tennessee Jed, and Q.
Kim's family is from Virginia and North Carolina, and she grew up in Pinehurst, North Carolina.
She met Ben while she was in college in Steamboat Springs, Colorado, a small resort community focused on skiing where Ben, a Colorado native, managed a snowboard shop. They were still living in Steamboat Springs operating a boat business on a lake when they decided it was time for a change of scenery.
They wanted to find a lakefront property with potential for recreational tourism development.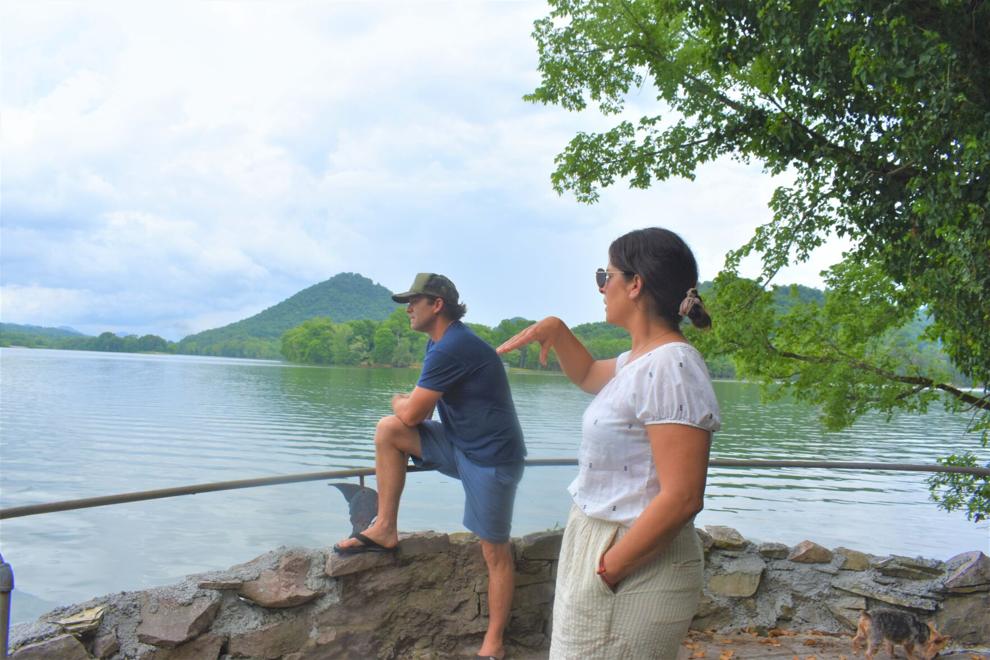 After searching North Carolina, Virginia and Lake of the Ozarks, they finally decided on Cherokee Lake. Originally, they found a piece of lake property in Grainger County, but that deal fell through.
"We had been looking to move," Kim said. "I wanted to be home. Closer to my family. I love Colorado, but the snow got a little tiring."
"The thing that drew me into this area was being in the mountains," Ben said. "We had a pretty successful wake-surf business that we owned for a number of years. Our draw was also to be on the water and hopefully be able to continue that at some point."
How did Marble Hall get on their radar?
"After the original property that we were looking at fell through, we were just keeping our eyes peeled for anything that was on the market," Ben said. "We had our heart set on Cherokee Lake. It was just a few weeks later we stumbled across this and became really excited about the prospect of being able to pull something like this off."
The final sale price was $735,000, which bought them a 40-acre property with 3,000 feet of Cherokee Lake shoreline, and a 3,000-square-foot Victorian style house that still has strong bones.
Ben said they got a lot more than they could have gotten in that price range anywhere else.
"We're used to a resort town where you're at $500-$800 per square foot in sales price," he noted. "So looking at this property and getting it for the price that we did — and being on the lake — we thought we had literally struck gold. Fast-forward seven-eight months down the road, we're working our tails off every day to try to bring this place back to life."
"We didn't intend on having such a special property," Kim said, "and such a special home. When we put the offer in and got the contract, people (interested in the property) started coming on our tails as well. We felt that we made the right decision."
Any pleasant surprises since moving in?
"The people. Our friends. I ride horses," Kim said. "The horse community has been amazing. I suppose the people have surprised me the most. Very, very outgoing. Very kind. Helping us here."
"Southern hospitality has been exceptional," said Ben.
They weren't surprised by the cost of living because they had done their research and knew Hawkins County has lower taxes.
"Where we had lived in the mountains, it's very expensive to live there," Kim said. "We didn't want to do that anymore. Resources are harder to get up there. Combined with COVID, the weather, it was kind of the perfect storm for us to get away."
What's the condition of the house?
The Saaris bought the property sight unseen, based on photos online. Their contract was contingent on selling their house in Steamboat Springs, so they had an out if they didn't like it.
They wanted to get that contract in place, however, because they foresaw what was happening to the real estate market in the region. They didn't want to end up in a potential bidding war for the property.
"It's a seller's market and it's very tough for buyers right now," Kim said.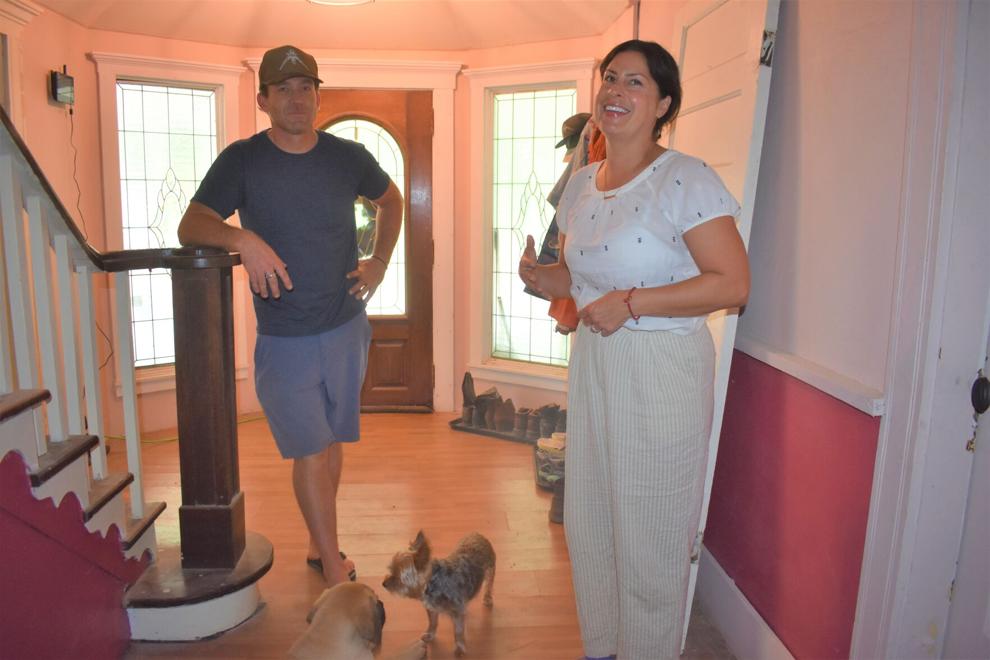 Ben and a friend did fly in before the sale was final and inspect the property, crawling around beneath the floors with headlamps.
The house needed help. The foundation on the side facing the lake had collapsed and the floor was leaning. They jacked up the floor and rebuilt the foundation. They also had to redo the electrical and plumbing and install new HVAC. The first time it rained, they found a couple of leaks that are now fixed.
Everything needed work.
"It was pretty rough," Ben recalled. "There were people who had looked at the property who were actually going to tear the house down. We weren't interested in doing that, especially with the level of craftsmanship. We've had a 30-yard Dumpster parked out in front that we filled six times just from property trash, debris laying around, leftover old furniture in the house, tearing out all the lath and plaster in the house and dry walling. We haven't gutted it. We're still living in it. We're kind of moving around (restoring) a room at a time."
Among the highlights of the home, however, is the fact that quite a bit of original Tennessee Marble was still in place. Some of it they left alone, and some of it they repurposed, like building a new shower in the downstairs bathroom.
What are the plans for the property?
The couple have applied for a permit from the Tennessee Valley Authority to start a community dock.
"We have no plans to go anywhere else," Ben said. "We're going to try to make a living here. It's all fun and games working on a house every day, but we're too young to retire, so we've got to make a few moves, and we want to make them here."
They're going to try to start with the marina and add amenities from there.
"We don't know exactly what that's going to look like yet because we're in the process of the TVA approval," Ben aded. "The idea would be to turn it into a small marina and small overnight campground with some hiking and mountain biking trails."
"We'd also like to do some eco-friendly cabins on the property for people to stay," Kim said. "The lake offers so many recreational possibilities. Canoeing, kayaking, power-boating."
The Saaris are cognizant that they are part of a recent influx of newcomers to the county. They're not surprised that people from other states recognized the higher quality of life that Hawkins County offers. They don't want to see that change.
"The last thing we want to see is this place explode. I think one of the things that's great about it is being exactly the way that it is," Ben said.