Nearly 44 years after she was kidnapped and murdered, I'm still haunted by the name Lisa Slusser.
Although I never met her, I don't think there was one single event that had a greater impact on my childhood than the 1977 kidnapping, rape, and murder of that 12-year-old girl from the next town over in Beach Park, Illinois.
That murder stayed unsolved for 13 years until 1990, when Gary Kerpan called the FBI and confessed, stating his conscience was bothering him. He was an alcoholic whose attorney claimed his combat experiences in Vietnam had caused mental illness.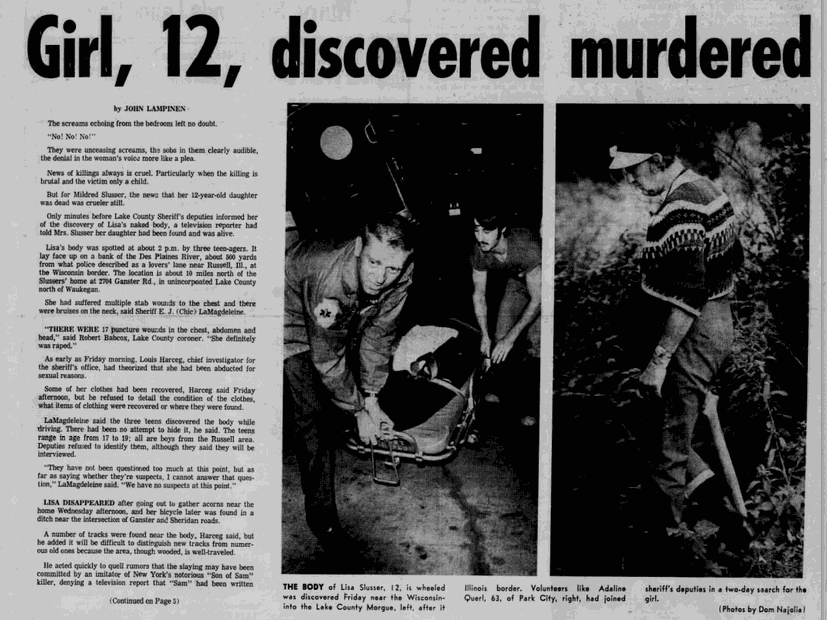 In 1991, Kerpan was sentenced to 30 years for Lisa's murder. He served 15, and as of 2010 he was homeless and living on the streets of Fort Lauderdale, Florida. But if he hadn't confessed, that case would probably still be unsolved.
That case had a prolific effect on our community in Lake County, Illinois. A horrific and heinous tragedy that always happens somewhere else had occurred on our doorstep. It was a loss of innocence.
It changed the life of every child and every parent in our community.
I'm hoping and praying that's not what has happened in Hawkins County to 5-year-old Summer Wells and that she will be found alive and safe. The main similarity between these two incidents, however, is the unanswered questions. Not knowing what happened.
Within the past half-decade, Hawkins County has seen two major child kidnapping cases, one of which involved a girl who voluntarily joined a convicted sex offender she'd met online and the other a girl who was taken by a family member.
In both cases, law enforcement knew almost immediately who was responsible, orchestrated massive searches, and in both cases the children were returned home safely.
We don't know what happened to Summer. Is she lost? Was she taken? Is the person responsible still in our community? Should we be more concerned about our children's safety?
Some of these same questions were being asked in Lake County, Illinois, 44 years ago.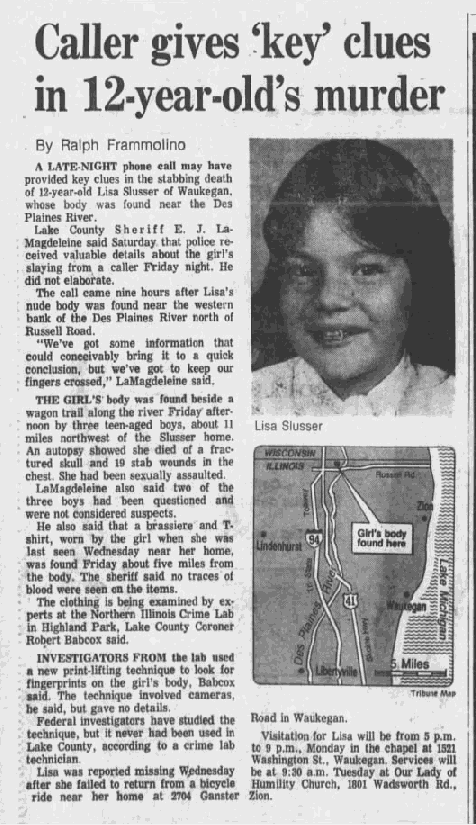 On Aug. 20, 1977, 12-year-old Lisa left her home in Beach Park, Illinois, riding her brother's bike to collect acorns in the woods for her pet rabbit. That's about five miles south of where I grew up.
Three days later her body was discovered on the banks of the DesPlaines River near the Illinois/Wisconsin state line, about five mile west of my house.
She had been sexually assaulted, struck on the head and stabbed 19 times.
I was 8 years old watching TV with my grandmother when it came on the news. I distinctly remember my grandmother saying something to the effect that our lives were never going to be the same after this.
Grandma was right. For years we were in a constant state of heightened awareness. You couldn't go anywhere alone. It was stressful just to be out in your yard. We saw potential murderers behind every tree and bush.
The adult go-to phrase for shooting down any requested child activity or excursion was, "Lisa Slusser's killer is still out there somewhere."
Our school began a safety curriculum in health class with instructions on safe practices to avoid being kidnapped. Stay in groups as much as possible. Use the buddy system. Keep a safe distance from strangers. Don't let anyone get close enough to grab you. Tell your parents about suspicious strangers in your neighborhood. Don't talk to strangers or get near their vehicles.
That was drilled into our heads on a daily basis by parents, grandparents, pastors, teachers and principals.
Unfortunately, there was another horrible incident that happened in my hometown about four years later. Two of my best friends were held at knifepoint and raped at a small park. That perpetrator was never caught.
Just as the fear over Lisa's murder began to subside, here was another incident to spread fear and anxiety throughout our community.
I grew up in a town similar to Rogersville in many ways, including population, size, and demographics. It was mostly just working people trying to raise their kids and pay their mortgage. The psychological damage these two incidents had on our town lasted for years.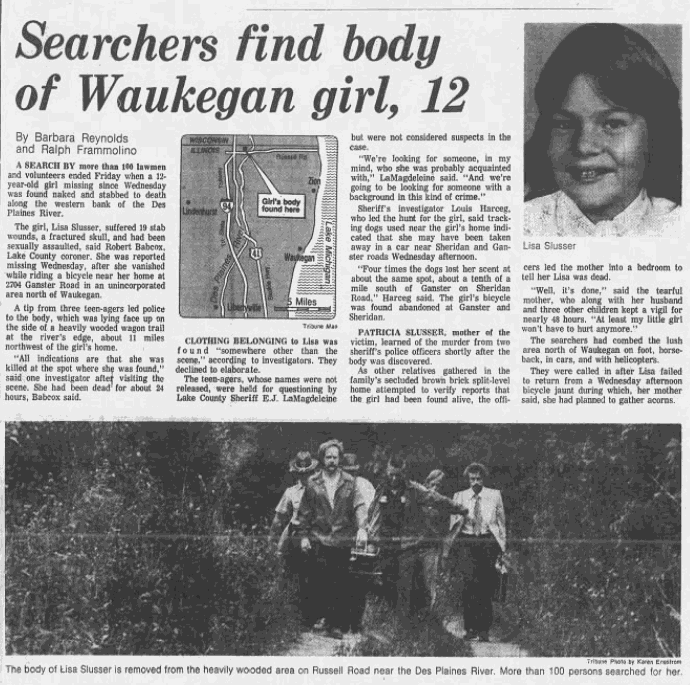 This is not to take anything away from the suffering of Lisa's family, or what the Wells family is going through in Hawkins County. It's devastating for them. I have an aunt who was raised more like my sister. She is the same age as Lisa, and they would have been classmates in high school.
If we'd lost my aunt (whose name also happens to be Lisa) in that manner, our family would have been totally destroyed. Fortunately my aunt stayed safe, but she had to live out the rest of her childhood with the knowledge that Lisa's killer might be around the next corner waiting for her.
I don't want to see that happen to Hawkins County's children.
But until we have more answers about what happened to Summer, I'm afraid we're all going to keep a closer eye on our children.
Hold them tight, and don't let them out of your sight.
Jeff Bobo is a reporter with the Kingsport Times News who covers Hawkins County.