ROGERSVILLE — As Day 8 in the search for missing 5-year-old Summer Wells drew to a close on Wednesday, the Tennessee Bureau of Investigation reported that search teams continue to focus on the area around her Ben Hill Road home.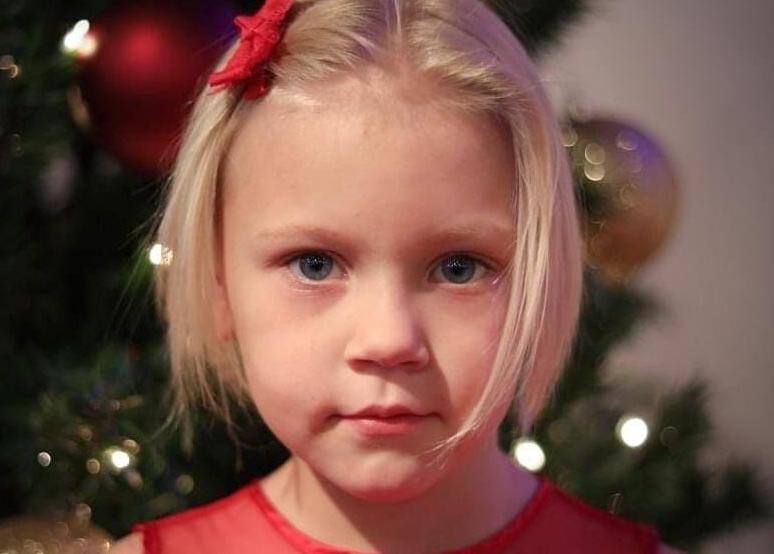 Agents and detectives also followed up on potential leads. As of Wednesday afternoon, the TBI had received 304 tips, but none has resulted in a significant development in the case.
On Tuesday evening, investigators conducted a roadblock canvass, speaking with drivers who travel through the Beech Creek area often to see if they noticed anything out of the ordinary on June 15, the day Summer Wells went missing.
But there was still no sign of Summer.
Her father, Donald Wells, described the time since Summer went missing as a "living nightmare."
"We just want our Summer back," Wells told the Times News. "She's definitely considered a great blessing from God. She was a daddy's girl. She wouldn't even go to her mother for the first year. It kind of broke her heart. I've never seen anything like that in my life, and I never expected anything like that."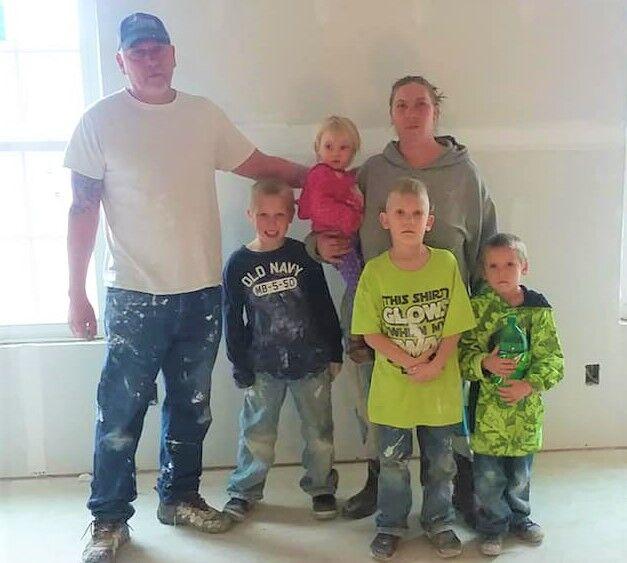 Wells added, "I knew someday she was going to grow up and get married, and raise her own family. Just not knowing where she's at or who's got her. She had such a good, loving, kind heart. It's like God sent me an angel."
Wells said the first couple of days after Summer went missing he'd wake up thinking it was a nightmare.
"It is a living nightmare," he said. "It's a real nightmare."
$25,000 reward offered for Summer's recovery
Summer was last seen at her home on Ben Hill Road in the Beech Creek community of Hawkins County on June 15 at about 6:30 p.m.
She stands 3 feet tall, and she is 40 pounds with blond hair and blue eyes.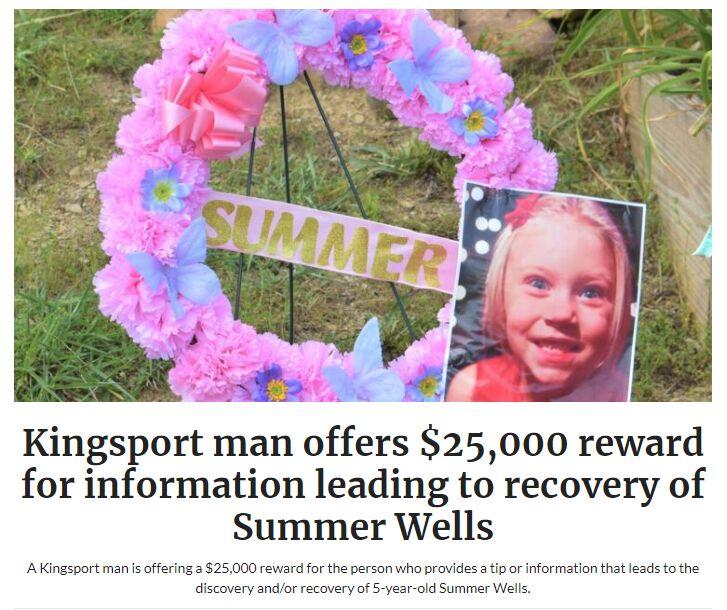 She was last seen wearing gray pants and a pink shirt and might have been barefoot.
Anyone who has seen Summer or has information on her whereabouts is asked to call the Hawkins County Sheriff's Office at (423) 272-7121 or the TBI at 1-800-TBI-FIND.
A $25,000 reward has been offered for information leading to the recovery of Summer.
On Monday, the Times News received a letter in the mail from David P. Garrahan of Kingsport that contained a check for $25,000.
"I remain convinced that somebody knows something regarding the disappearance of 5-year-old Summer Wells," Garrahan stated in his letter.
The Church Hill Rescue Squad has agreed to manage rewards offered for Summer, and more information will be released to the public as that fund is established.
Church Hill Rescue Squad Capt. Tim Coup said the focus remains on the search for Summer. He said the search had encompassed more than 4.6 square miles of rough terrain as of Wednesday.
"It will be beneficial to keep her face up there"
A Kingsport billboard company continues to donate advertising space throughout the Tri-Cities to the search for the 5-year-old.
Molly Overton, who is director of sales at the Kingsport branch of Lamar Advertising, said Summer's information was posted on company billboards across Tennessee and neighboring states for 72 hours after the Amber alert was issued last week.
"We actually have a relationship with the National Center for Missing and Exploited Children, so when an Amber alert is sent out it's automatically sent out to our Network Operating Center in Baton Rouge, Louisiana," Overton said. "That organization determines if they want it to go out locally or within a 100-mile radius, or statewide, and we always maintain a spot on all of our digital networks to be able to run that instantly."
Overton said the Summer billboards ran statewide for 72 hours, and they were asked to extend it locally.
"We want to continue this in the local area while there's still hope that it can help," Overton said. "There would have been hundreds of billboards across the state that it was running on. Here it was running on 19 across the Tri-Cities. We've got one in Rogersville, two in Greeneville, one in Duffield, two in Bristol and four or five each in Johnson City and Kingsport."
Summer's local digital billboard is set to expire Thursday night, at which time it will be evaluated as to whether it should continue.
"As long as we feel it will be beneficial to keep her face up there we want to do that," Overton said.