KINGSPORT — Tennessee honored four musical icons of the Model City on Wednesday with the unveiling of new historical markers in downtown Kingsport.
These new "Tennessee Music Pathways" markers are located along Broad Street and are part of a 2018 initiative of the Tennessee Department of Tourist Development meant to connect visitors to the state's rich musical heritage via the website www.tnmusicpathways.com.
The markers honor four musicians with ties to Kingsport and can be found at the following locations:
• Lesley Riddle (located in front of the new city hall);
• Brownie McGhee (located at Glen Bruce Park);
• Barry Bales (located at Center and Broad);
• Doyle Lawson (located at Main and Broad).
Each marker includes pictures and biographical information about the musician and their career.
"We're glad you're here, we're glad you're going to get to see why these people have made such a difference in the music industry and for their communities and we get to honor these hometown legends," said Mark Ezell, the Tennessee commissioner of tourism.
LESLEY RIDDLE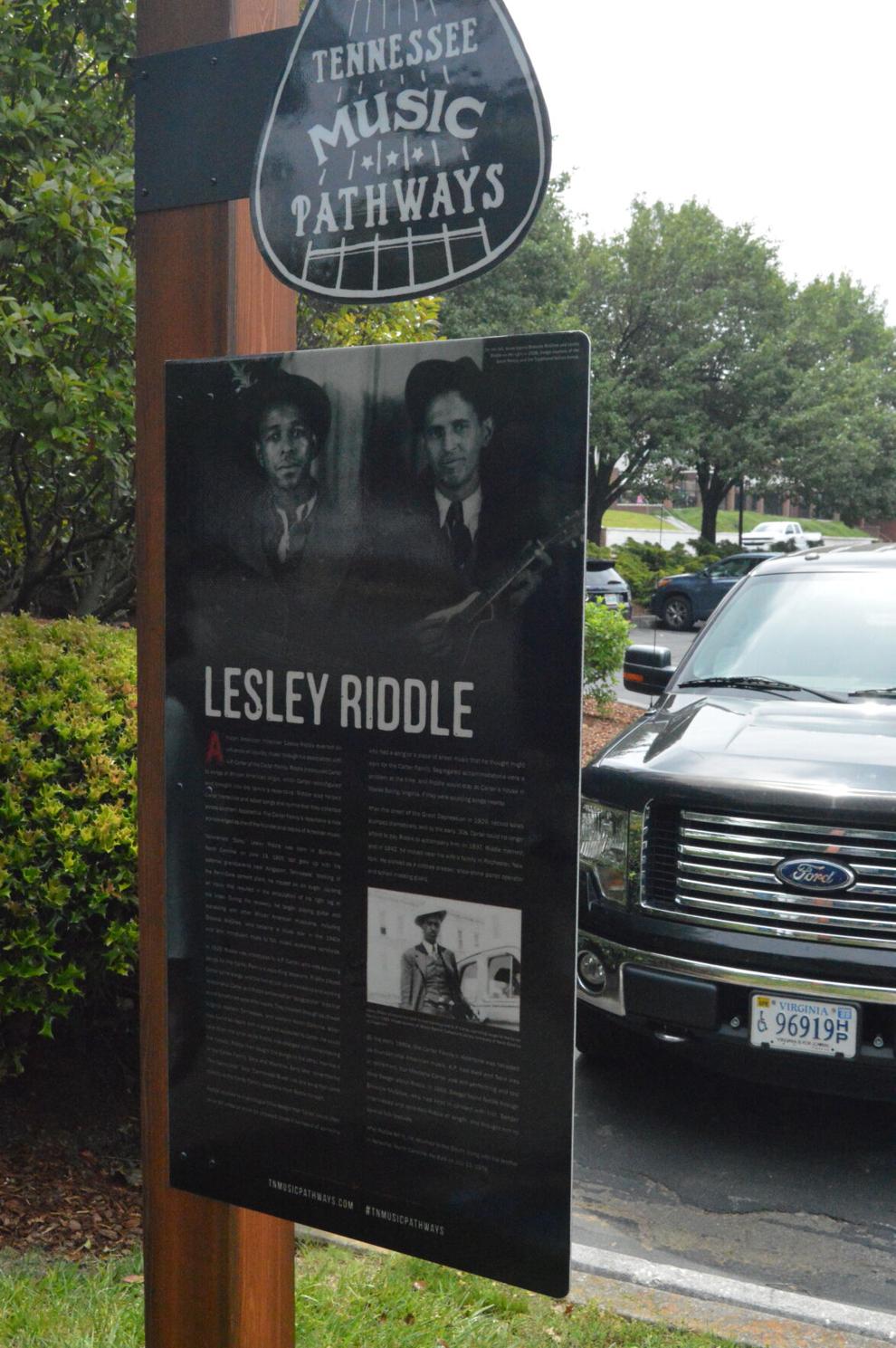 African American musician Lesley Riddle exerted an influence on country music through his association with A.P. Carter of the Carter Family. Riddle introduced Carter to songs of African Ameri- can origin and also helped Carter transcribe and adapt songs and hymns they collected across southern Appalachia.
Riddle was born in Burnsville, North Carolina, in June 1905, but he grew up with his paternal grandparents near Kingsport. A.P. Carter and Riddle were introduced in 1928 and quickly struck up a friendship and working relationship that led to "songcatcher" trips. When they found someone with a song that appealed to Carter, he would take down the lyrics while Riddle was charged with remembering the melody. Riddle then taught the songs to the other members of the Carter Family.
Riddle passed away in Asheville, North Carolina, in 1979.
"We're thrilled to be here and I know if Lesley were here, he would be astounded with all of this attention," said Ellen Denker, a relative of Riddle's who attended Wednesday's unveiling.
BROWNIE MCGHEE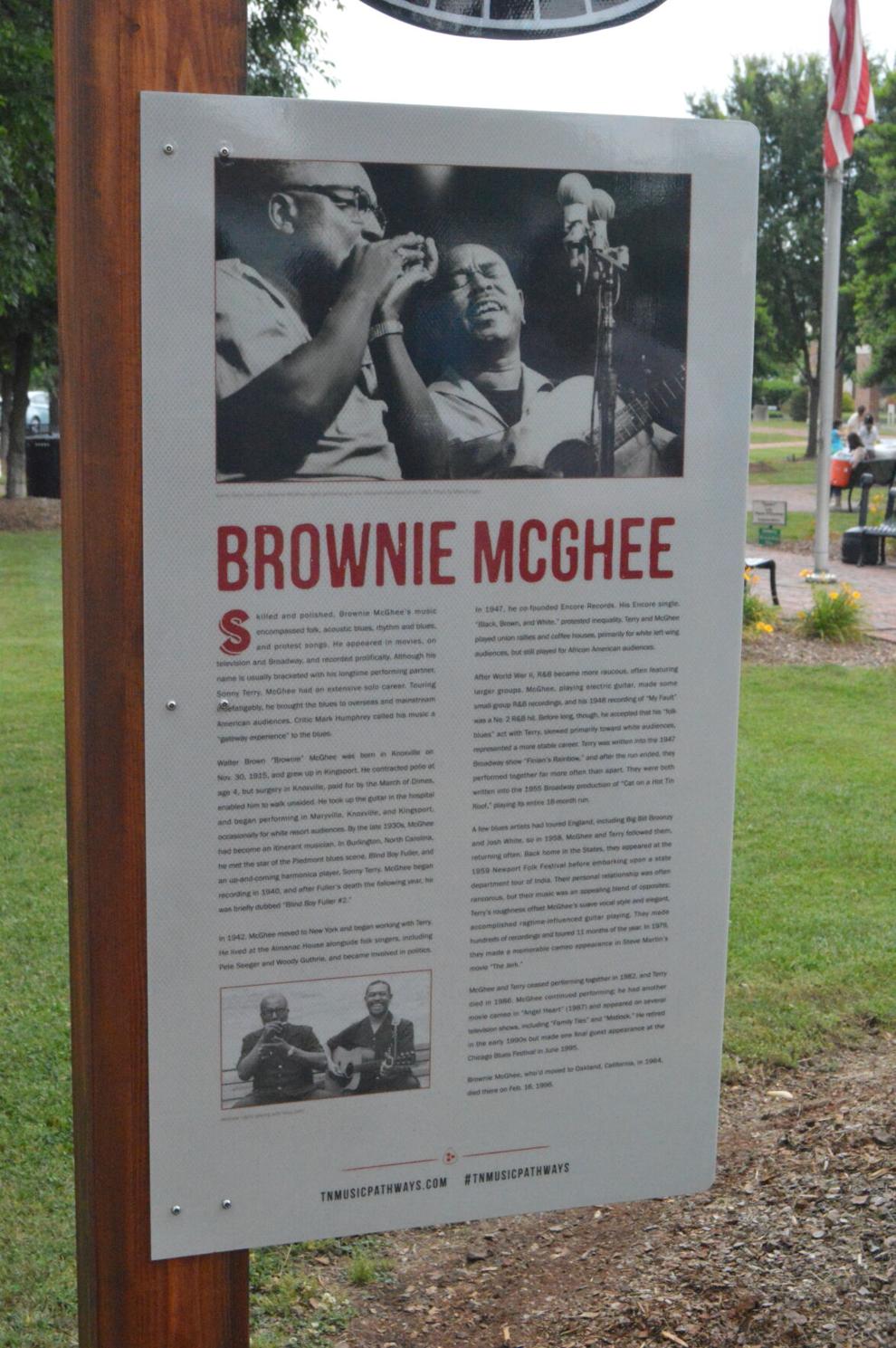 Walter Brown "Brownie" McGhee was born in Knoxville in November 1915 and grew up in Kingsport. McGhee's music encompassed folk, acoustic blues, rhythm and blues and protest songs. He appeared in movies, on television and Broadway, and recorded prolifically.
McGhee began recording in 1940 and shortly after began working with up-and-coming harmonica player Sonny Terry. From there, McGhee's career took off. He co-founded Encore Records in 1947 and had a No. 2 R&B hit "My Fault" in 1948.
Both McGhee and Terry were written into the 1955 Broadway production of "Cat on a Hot Tin Roof," playing its entire 18-month run. The duo made hundreds of recordings and toured 11 months of the year. In 1982, he received the National Heritage Fellowship award. McGhee, who moved to Oakland in 1964, died there in February 1996.
"This, and all of these monuments, has been a long time coming," said Calvin Sneed, grand-nephew of McGhee.
Sneed continued by saying he recently spoke with McGhee's son George and he had the following comment to make about the recognition.
"By honoring my father like this, this is one of the greatest things in the world. Both he and my uncle Stick represented Kingsport well," Sneed said. "They were from Kingsport, they lived here, they went to Douglass High School here and they helped put Kingsport on the musical map too."
BARRY BALES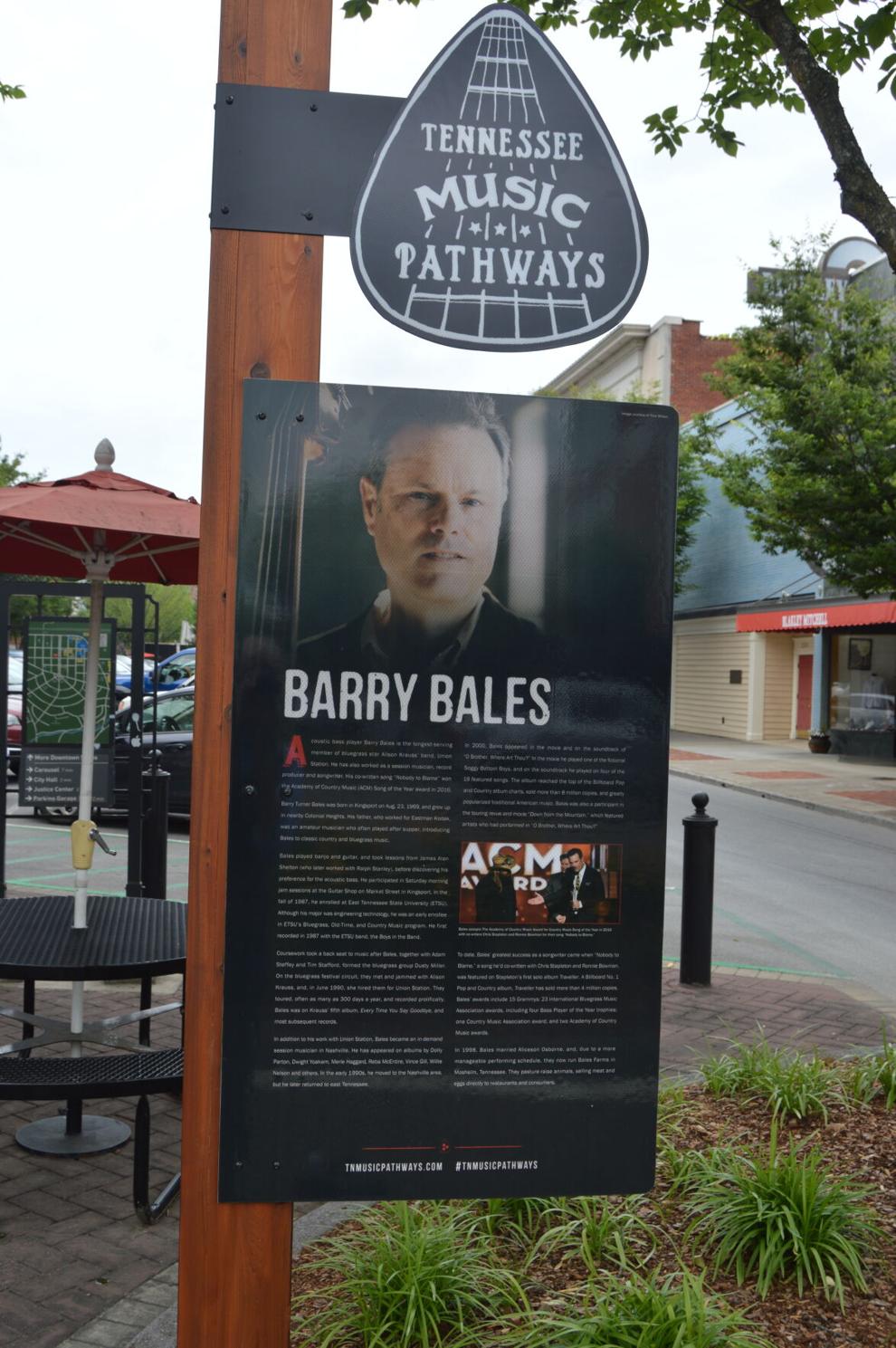 Acoustic bass player Barry Bales is the longest-serving member of bluegrass star Alison Krauss' band, Union Station. Bales is also an award-winning songwriter, producer and session musician. His co-written song "Nobody to Blame" won the Academy of Country Music (ACM) Song of the Year award in 2016.
Bales was born in Kingsport in 1969 and grew up in Colonial Heights. His father, who worked for Eastman, was an amateur musician who introduced Bales to classic country and bluegrass music. He participated in Saturday morning jam sessions at the Guitar Shop on Market Street. Bales' awards include 15 Grammys, 23 International Bluegrass Music Association awards, one Country Music Association award and two Academy of Country Music Awards. Barry and his wife, Aliceson, now run Bales Farms in Mosheim. He joined Union Station in 1990.
"I'm thrilled and honored that anyone would see fit to bestow this on me," Bales said. "The only reason it's happened the way it has ... is by divine intervention and I'm so thankful to the Lord for all of the blessings he's given me and continues to give me."
DOYLE LAWSON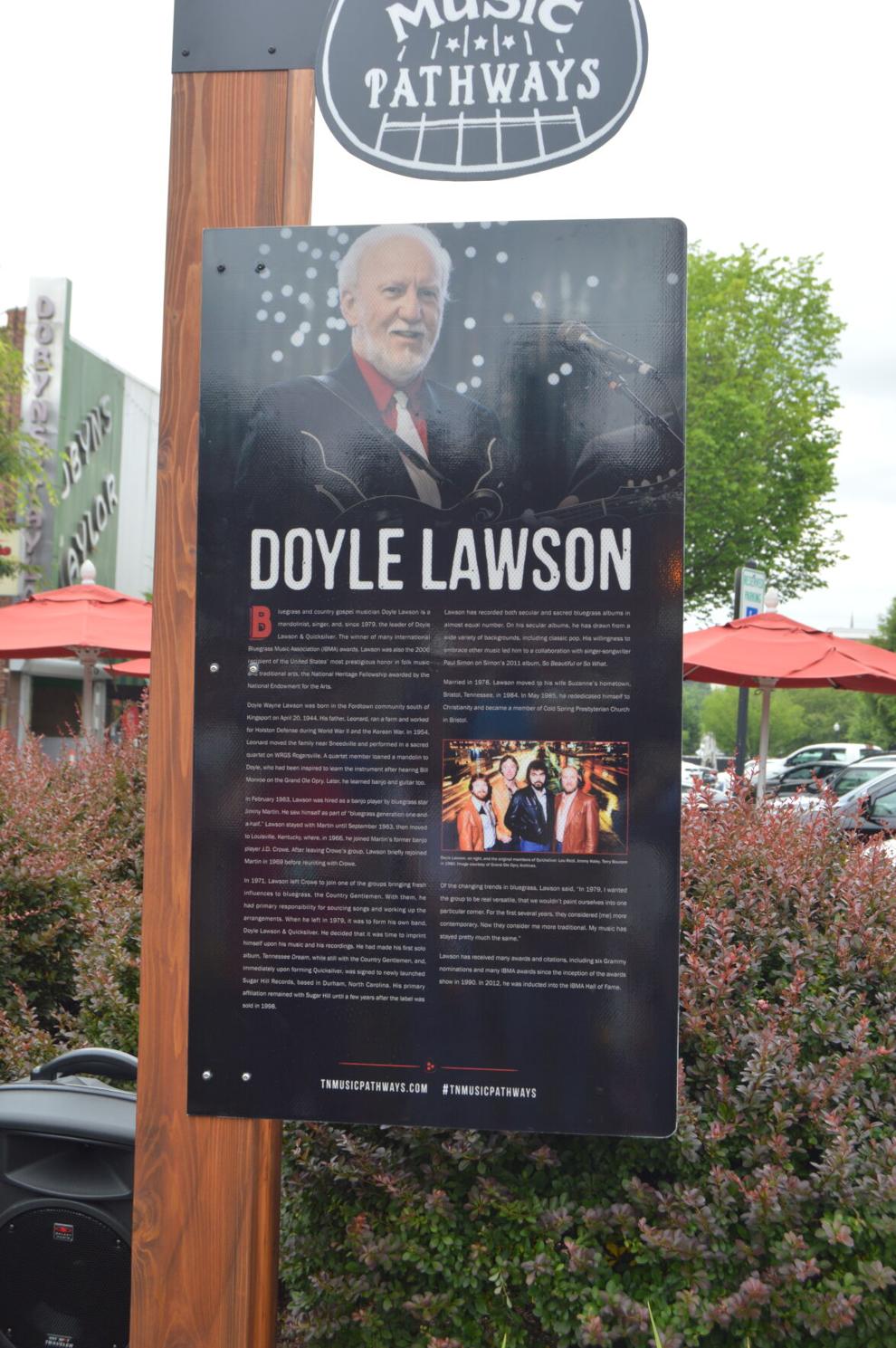 Grammy-nominated bluegrass and country gospel musician Doyle Lawson is a mandolinist, singer, and, since 1979, the leader of Doyle Lawson & Quicksilver. The winner of many International Bluegrass Music Association awards, Lawson was also the 2006 recipient of the United States' most prestigious honor in folk music and traditional arts, the National Heritage Fellowship awarded by the National Endowment for the Arts. Lawson was born in Kingsport in 1944 and he and his wife, Suzanne, live in Bristol.
"It's beyond the words of expression the way I feel," Lawson said. "When as a kid I was listening to local radio stations ... I never thought it would come to this. All I ever wanted to do was play music, be in a band and I never thought what it would come true for me."
From the largest cities to the smallest communities, Tennessee Music Pathways stretches across all 95 counties and features hundreds of landmarks from the seven genres of music that call Tennessee home: blues, bluegrass, country, gospel, soul, rockabilly and rock 'n' roll. Historians have identified more than 300 points of interest to date, and additional markers will be installed for years to come.
Kevin Triplett, the former commissioner of the Tennessee Department of Tourist Development, led the charge to introduce this pathway.
"When you're trying to get people to visit your state, you have to showcase the best of what you are and be authentic and genuine and real," Triplett said. "We are beauty, family, experiences, history, but what runs through all of our DNA as Tennesseans is music."