By MATTHEW LANE
KINGSPORT — Two local artists are adding a splash of color to the bridges along the Kingsport Greenbelt.
Through a grant from the Tennessee Arts Commission, Kingsport's Office of Cultural Arts was able to contract with Betsy Robbins of Kingsport and Chris Hobbs (an art teacher for Sullivan County) to paint murals on the underside of two bridges along the Greenbelt.
The bridges are on Clinchfield Street near Cherokee Village and Eastman Road near Olive Garden.
"If we're successful, we hope to work with Parks and Recreation to do more along the Greenbelt," said Hannah Powell, director of Cultural Arts.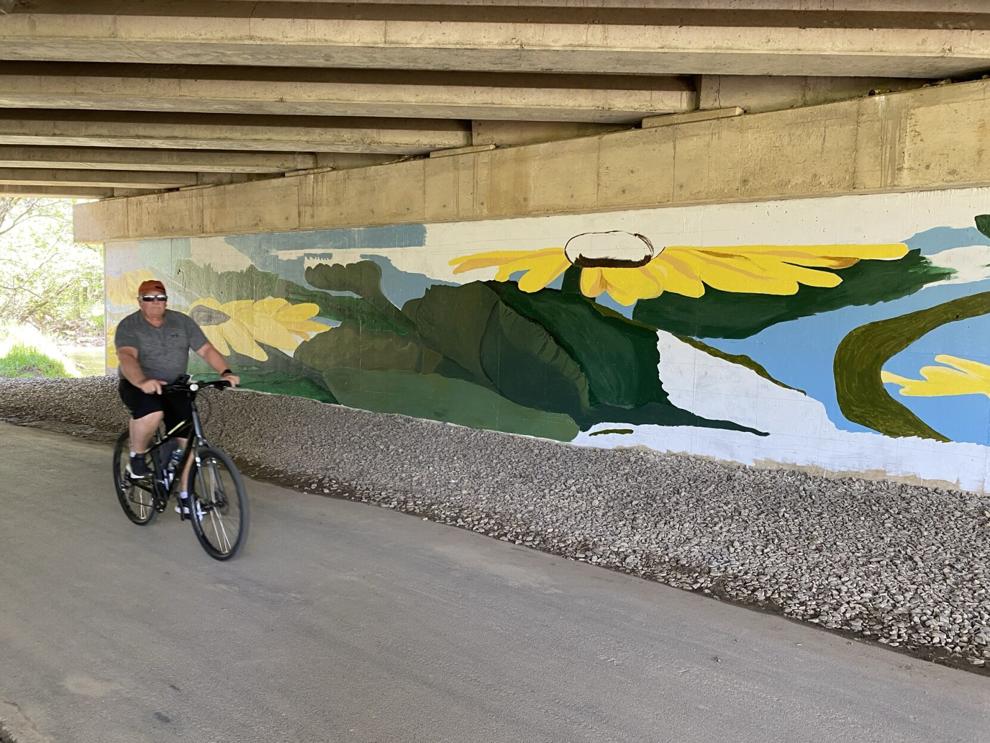 ABOUT THE MURALS
So far, the underside of the Eastman bridge has been primed and no images have been painted. However, on the Clinchfield bridge, flowery images are covering most of the 96-foot-long section.
Robbins, who has been an artist since the sixth grade, began working on the Clinchfield mural around the first of April. So far, she's put in about 24 hours of work and hopes to finish the project by the middle of May.
"My husband and I had to scrape the entire wall by hand, then we came in and washed, primed it and started painting it the week of April 12," Robbins said. "I sketched everything out, numbered it so my husband could help with the painting. Then I go back in and add details and shade."
Robbins took inspiration from the black-eyed Susans that grow naturally in her yard. Once the work is complete, she will have used three gallons of primer and about eight gallons of paint.
"Fortunately for my sixth grade art teacher who saw something in me and thought I was a good addition, she added me on and I haven't stopped painting since," Robbins said.