KINGSPORT — In normal times, this weekend would have been the official kick off to the summer blockbuster movie season.
Summer movie blockbuster season? Blockbuster summer movie season?
However you phrase it, let's be honest — it's the time of year when Hollywood starts releasing movies we actually want to go see. This typically includes two or three Marvel and DC superhero movies, the latest entry in the Fast and the Furious franchise, a couple of monster or sci-fi flicks and maybe a Transformers movie.
Basically, one of the best times of the year to go to the cinema. It's also the time of the year when Free Comic Book Day takes place. Traditionally, FCBD happens on the first Saturday of May (which is tomorrow) while the latest Marvel movie (in this case Black Widow) would normally come out around the same time.
That didn't happen last year and unfortunately it's not happening this weekend. However, there is some good news on the horizon.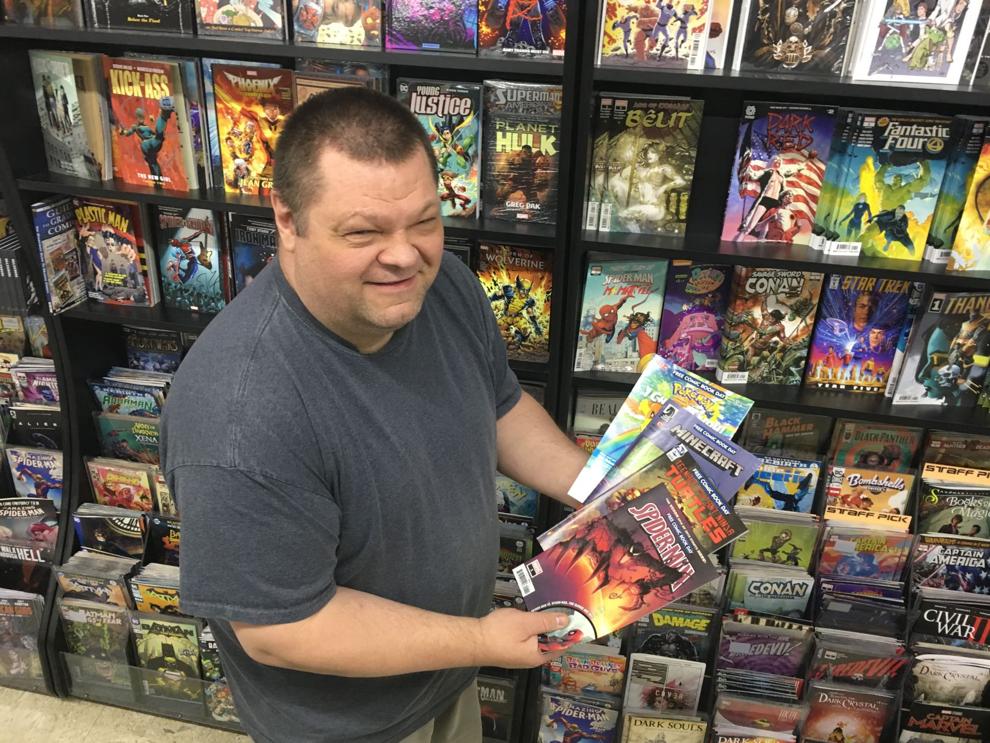 FREE COMIC BOOK DAY
Free Comic Book Day began in 2002 and is held worldwide on the first Saturday in May. The annual event was born out of an idea from Joe Field, owner of Flying Colors Comics in Concord, California. Field proposed the idea in a column and believed such an event would help bring people into comic book stores and revitalize the struggling comic book industry.
Historically, Marvel and DC have been bitter rivals, but in the wake of the September 11 attacks, the mood of the country was decisively different. The Big Two companies, along with Image Comics, Dark Horse Comics and Diamond Comic Distributors all came together and agreed to try Field's idea.
Each year 2,300 to 2,500 stores around the world participate in the event with the most being in the United States. In a typical year, roughly 6 million free comics will be distributed to 2,600 stores reporting 1.5 million people coming through their doors.
Dewayne Chase, owner of Dewayne's World of Comics and Games in downtown Kingsport, describes the day as being totally chaotic, but in a good way. It's his store's Black Friday event — the busiest day of the year for him.
WHAT HAPPENED LAST YEAR?
Around this time last year the entire world was going through a pandemic, many businesses were closed and most folks were locked down in their homes. Free Comic Book Day did not happen in a traditional sense.
Instead of a one-day event, stores were allowed to give out four books a week over multiple weeks during the summer, just to keep interest up and to keep folks coming into the stores that remained open. It was better than nothing I guess.
Chase, who closed his store for about a month last year, said with COVID going on, he didn't participate in Free Comic Book Day last year. This year, though — like every other year since its inception — Chase plans to participate.
TIME TO SUIT UP
Free Comic Book Day will take place on Aug. 14 this year, offering new and existing fans a nice selection of books to choose from. Marvel is offering us an Avengers/Hulk comic and a Spider-Man/Venom one. DC is participating, but at press time, the company had not revealed which book(s) will be available.
Some of the other titles slated for release that day include Archie, Assassin's Creed, Blade Runner, Judge Dredd, Sonic the Hedgehog, Star Wars, Street Fighter, Trailer Park Boys, Vampirella and Zorro.
"We're planning to participate," Chase said. "We'll see how things go come August. We've already ordered the comics. So far, we're on board."
Let's hope it happens because it's a good event, not just because I'm a fan of the medium. The day aims to promote the hobby of comics, it reinforces the need to support your local businesses, and it gets kids to actually look at something other than their phone.
I see this as an absolute win.